LISTEN Patrick Hawes' The Great War Symphony on New Classical Tracks
Editor's note: The University of Minnesota marshaled its musical forces Sunday for Lest We Forget, a concert to commemorate the centenary of the end of World War I. Listen now to the concert, including the U.S. premiere of 'The Great War Symphony,' by using the players above. Below, read Classical MPR's feature from before the concert for background.
Patrick Hawes grew up in Lincolnshire, England, and remembers his grandfather Bert vividly. Bert was deaf in one ear and had a finger missing from his service as a soldier in World War I.
But his spirit was irrepressible. He sang war songs, regaled the young Patrick with stories of the trenches, and marched him up to bed every evening beating a metal tray in military fashion.
Half a century later those reminiscences became the seed of Hawes' The Great War Symphony, a large-scale work for choir, soloists and orchestra whose U.S. premiere will happen at Northrop Auditorium on Sunday, Nov. 11, as part of Lest We Forget: World War I Armistice Centenary Concert.
Leading the performance will be conductor Matthew Mehaffey, artistic director of the Oratorio Society of Minnesota and a faculty member at the University of Minnesota.
Mehaffey first heard about The Great War Symphony two years ago, and jumped at the chance of bringing it to America.
"I had listened to enough of Patrick's other music to know it was going to be appropriate and well done," he says.
Carnegie Hall eventually got wind of Hawes' symphony, too, and although Carnegie's Nov. 11 performance is officially billed as a "joint U.S. premiere," its later start time means that the Minneapolis event chronologically comes before it.
LISTEN World War I music, curated by Univ. of Minn. musicologists
"We are technically first by three hours," Mehaffey says with a smile. "We were the first ones on the project, but it was a great opportunity for Patrick Hawes to have the symphony done in New York. So of course we agreed to that."
Mehaffey is in his 11th year with the Oratorio Society, an organization that will soon be celebrating its 40th season of concert-giving in the Twin Cities.
"In this very rich choral community of Minnesota, we're increasingly trying to do niche projects, work that isn't already being done," he says. "And I think The Great War Symphony falls in with that."
The choice of Northrop as a venue for The Great War Symphony's U.S. premiere also was something that Mehaffey considered carefully.
"The connection with Northrop is maybe not immediately obvious," he says. "But the Northrop building was dedicated to the 3,600 Minnesotans who lost their lives in World War I, so it seemed like a natural location for the symphony."
Joining the 85 singers of the Oratorio Society on stage will be a further 75 members of the Men's and Women's Choirs of the University of Minnesota, where Mehaffey is associate director of choral activities.
Add an orchestra of 45 players, and the number of performers soars to more than 200.
"The Northrop stage is quite sizable, but it will be full," Mehaffey says.
LISTEN Armistice Day: Music From the Trenches
Accompanying Hawes' symphony will be a specially selected sequence of images, projected on a large HD screen above the musicians. The video content has been put together by David Fielding, programming administrator at the Oratorio Society. It features evocative and occasionally harrowing images from the World War I era.
The pictures provide a sober counterpoint to the four movements of The Great War Symphony, which uses texts by war poets such as Wilfred Owen, Robert Bridges, Rupert Brooke and Siegfried Sassoon.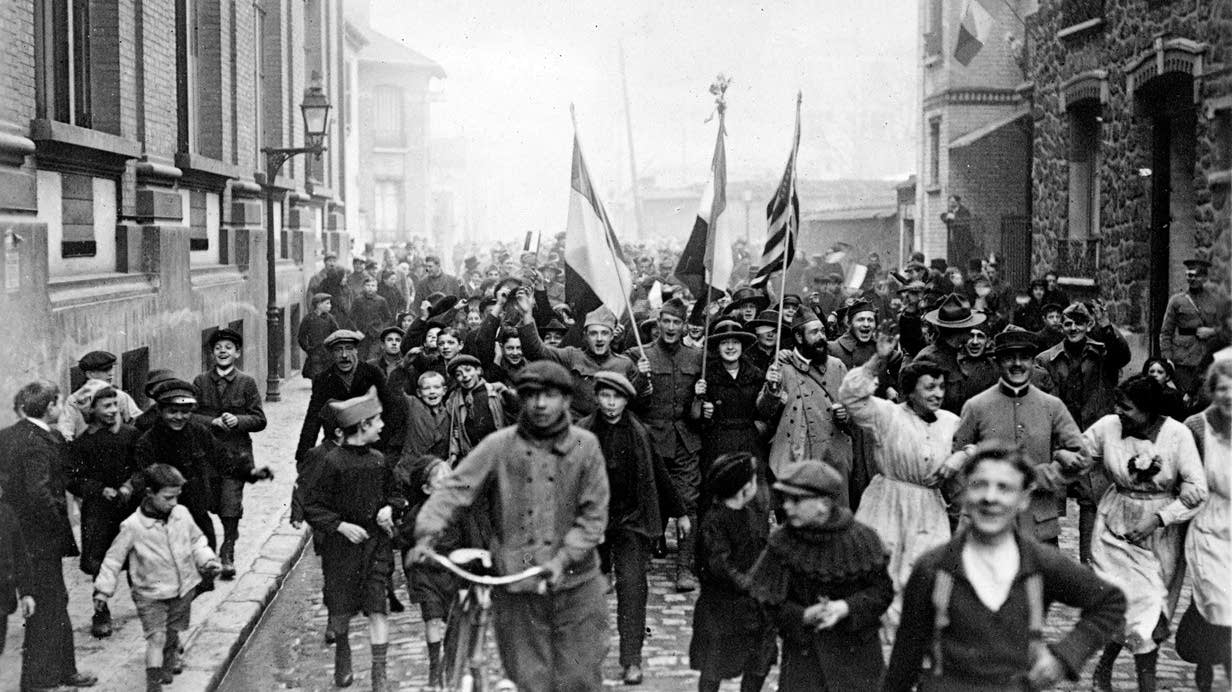 The hourlong symphony is "very economically composed and very tuneful," Mehaffey says.
"I was chatting to our tenor soloist Nick Chalmers," he adds. "He said the music is like one part Dominick Argento, one part Benjamin Britten, and one part Les Misérables. I laughed at that, but it's pretty accurate."
Other music of the period is featured in the first half of the Northrop concert. The University of Minnesota Wind Ensemble will play a medley of popular wartime tunes, the choir will sing Vaughan Williams' "Dirge for Two Veterans," and organist Helen Jensen will perform Marcel Dupré's Poème Héroïque on Northrop's restored Aeolian-Skinner organ.
Nov. 11, 2018, is the 100th anniversary of the armistice that brought the Great War to a conclusion, and other events are planned on Sunday as a lead-in to the Northrop concert.
DAILY DOWNLOAD Free classical tracks from World War I
"We've signed on to the national commemoration ceremony called Bells of Peace," Mehaffey explains. "Starting at 10:45 in the morning, we're going to have a short ceremony on the Northrop steps, and members of the Minnesota Military Museum will be there.
"They're going to do a 21-bell salute, like the 21-gun salute, which is our nation's highest military commemoration honor. Then volunteers will do 15-minute shifts, to read the names of every Minnesotan military casualty who died in World War I."
Those attending the concert also will be able to view a large World War I mural by Minnesota artist David Geister. Originally created for an exhibit at the Minnesota History Center in 2017, Geister's painting depicts 100 key individuals who influenced postwar America. It will be displayed in Northrop's atrium before and after Sunday's concert.
Hawes says he's delighted that his symphony will be premiered in Minnesota on the armistice centenary.
"I visited the state in the spring of 2016 and came to realize that it is a center of real musical excellence," he says. "It is my hope that the performance will draw the audience into a full and emotive remembrance of those momentous four years of the First World War which were to change dramatically the course of the 20th century."
Concert resources
Here are concert resources to make it easier to follow along with the Classical MPR broadcast:
Lest We Forget: Program Listing
Lest We Forget: Program Notes
Lest We Forget: Libretto