Saint-Saëns: Carnival of the Animals/Organ Symphony — Martha Argerich, Antonio Pappano; Orchestra Dell'Accademia Nazionale of Santa Celia (Warner)

"Come on let's have fun doing this. We have an opportunity to record this with Martha Argerich. How lucky are we?"
That's conductor and pianist Antonio Pappano. He's been working with the legendary Martha Argerich for many years. Recently all of the planets aligned, allowing Pappano and his orchestra, the Accademia Nazionale di Santa Cecilia, to record Saint-Saëns' Carnival of the Animals with her.
"She belongs to a bygone era and yet she's incredibly modern because she's a risk taking, daring performer," he says. "She is lyrical, and yet she's theatrical and passionate. She's … She can be very, very steely and yet she can be gossamer and caressing and all of this somehow … unpredictable. She dares you to follow her and dares you to to follow her journey and in making music, and in that way it's extremely joyful and it's a hell of a ride, let me tell you."
That's your role with her as a conductor. What's it like to sit next to her playing piano on Carnival of the Animals?
"Well I'm a decent pianist, but I'm no Arthur Rubenstein, that's for sure. And I'm, you know, I'm a conductor nowadays and it was pretty scary and I was sweating bullets before the first rehearsal. But you know … flying about the piano, she made me feel like I could go faster and faster and play softer and softer and create more and more excitement. She just made me better than I actually am. And isn't that a fantastic quality to have in a musician if you're doing chamber music. I mean and … that quality emanated from her through the whole experience. And of course onto my musicians who would play along with us there."
I think it's actually pretty hilarious hearing you and Martha Argerich trying to play scales badly. Is that a challenge for you?
"Well we came up with several solutions for that number. And I think the one we chose for the recording is — it is very funny because somehow between the hesitations and the almost making it to the top of the scale … is not very convincing at all. And so therefore it it's very funny."
I know the composer wrote Carnival of the Animals for a chamber orchestra but it seems like, often it's heard more with a fuller orchestra. Is that right?
"Well it's an opportunity for the orchestra to program something that is fun and for the family. And so orchestras take it over but in its original form there is something essential about it. I don't know … it's something like you're in a toy store. It feels like the instruments feel like toys, as do the pianos, you know. And so I much prefer it."
The Carnival of the Animals is paired on this recording with another work that's now often associated with a lovable pig named Babe. Antonio says right after he saw the movie he started programming the piece in concert. You hear one of those live performances on this recording.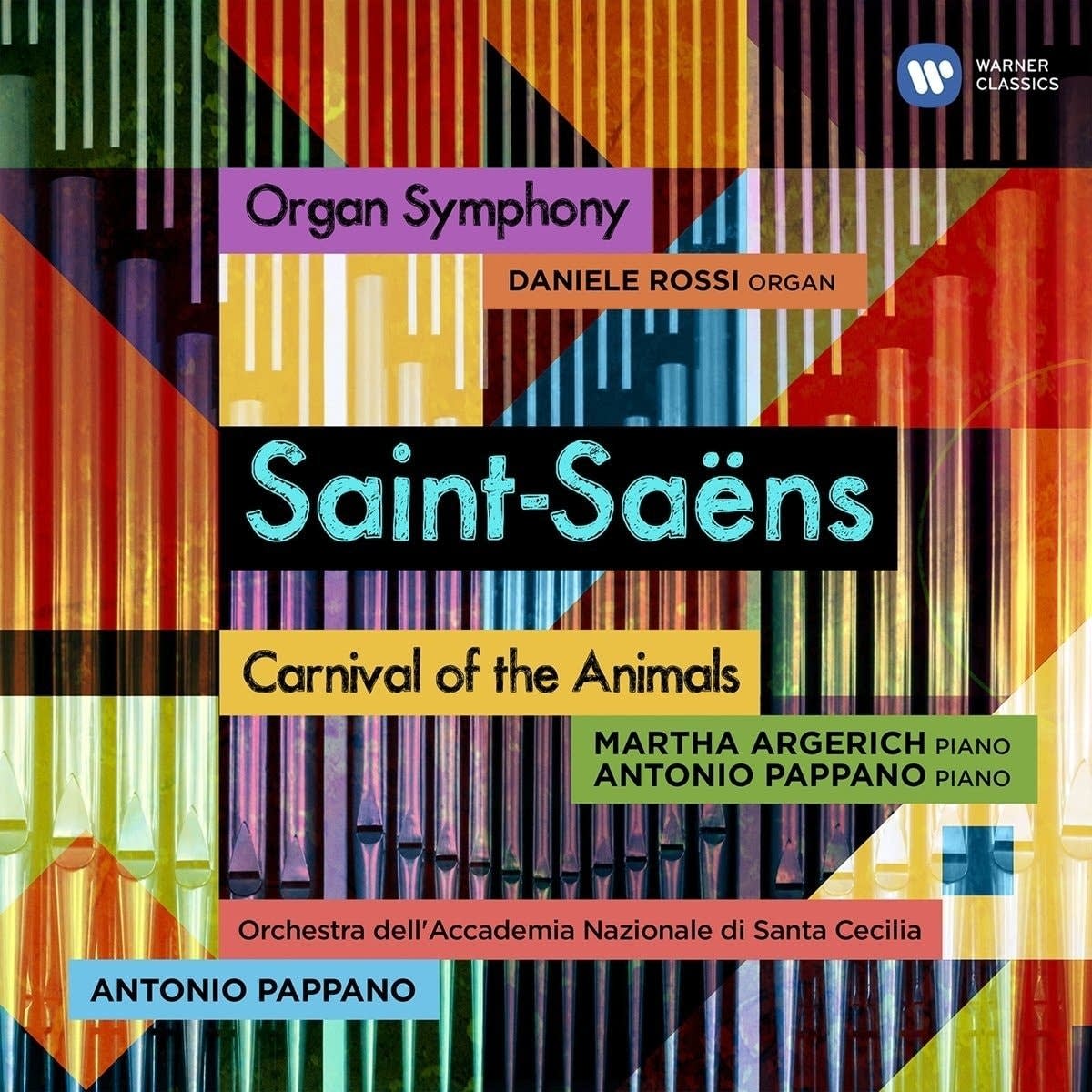 "We did a concert and so there's that spirit which imbues the whole thing, this live electricity and free song. And that is certainly the case in the symphony, the Organ Symphony, which is the pairing on this record, which was taken from live performances in Rome, which gives you an idea of what concerts can be like in Rome and what the hall is like and what the orchestra is like live."
Let's talk about why you paired these two together. They were composed in the same year. Is that one of the reasons?
"The fact that he interrupted work on the symphony to write the Carnival of the Animals, I think, is significant. But the fact that we were able to make it work so that Martha Argerich could join us, of course, was … well, you know that's a bonus that you only know you dream about."
Camille Saint-Saëns was worried that perhaps his colleagues might think him frivolous when he composed Carnival of the Animals. That's why he kept the complete work under lock and key until after his death. Antonio Pappano says there's more to it than you may think: "When music for children is really music written by a genius, it appeals to the child in all of us — in us adults, too. And I think that's the secret of these pieces."
To hear the rest of my conversation, click on the extended interview above, or download the extended podcast on iTunes or wherever you get your podcasts.
Resources
Antonio Pappano - official site
Orchestra Dell'Accademia Nazionale of Santa Celia - official site
Martha Argerich - Warner Classics
Saint-Saëns: Carnival of the Animals/Organ Symphony — Martha Argerich, Antonio Pappano; Orchestra Dell'Accademia Nazionale of Santa Celia (Amazon)