The Silk Road Ensemble (with Yo-Yo Ma) - Sing Me Home (Sony)
"I realized that all the things I was interested in, the world, what people did, how they thought, why they did what they did. And somehow it was possible to explore all of that through music. What is the motivation, what story are you telling me? And that was revelatory, that was freeing and I guess Silk Road is kind of a way of doing that so it's kind of a personal way of exploring the world."
So says cellist Yo-Yo Ma, who created The Silk Road Ensemble as a musical experiment 16 years ago. Most of the musicians were strangers. They didn't even speak the same language. Over the years, this family of multicultural musicians has grown. On its latest collaboration, Sing me Home, we hear unique stories about home, and what that means to each of these musicians. "Yes, and for that, I have to thank Johnny Gandelsman who is with us today," Yo-Yo adds. "Johnny had three homes growing up. He was born in Moscow, he lived in Israel and now he has moved to his third country: Brooklyn. More than that, I think he's one of the few musicians I know who has an ear for sort of the classics in classical music, for new music, for pop music, and he has an unbelievable ear. And he is an incredibly gentle and generous person and he is the producer of this album. He put it all together. And he actually allowed all of us to find the home that each person wanted to represent."
Johnny Gandelsman, a roving violinist with Brooklyn Rider and the Silk Road Ensemble, says the end result is an unusual collective of artists. "Yo-Yo often says something that stuck with me, which is that when he's performing, what people see is kind of the tip of the iceberg of who he is as a human being. And it's very true with members of our group that when we're on stage, the audience often gets a small percentage of who they are. So the focus of this album was to go more in-depth into the individual stories of our ensemble members. So many of the tracks are written by or arranged by Silk Road Ensemble members. So it was really great to put together the track list which felt special to the members of the group and then it's kind of like a kid in the candy store to have the possibility to say, well, we're going to record this song, who would you like to invite?"
"I think Johnny's secret is that he gives great parties," Yo-Yo Ma chimes in. "And this whole album is really about having a fabulous party … it's like who would you like to invite to the party and what night and that's what we did."
It made me wonder what rehearsals were like; I suppose it depends on who's invited to the party on any given night?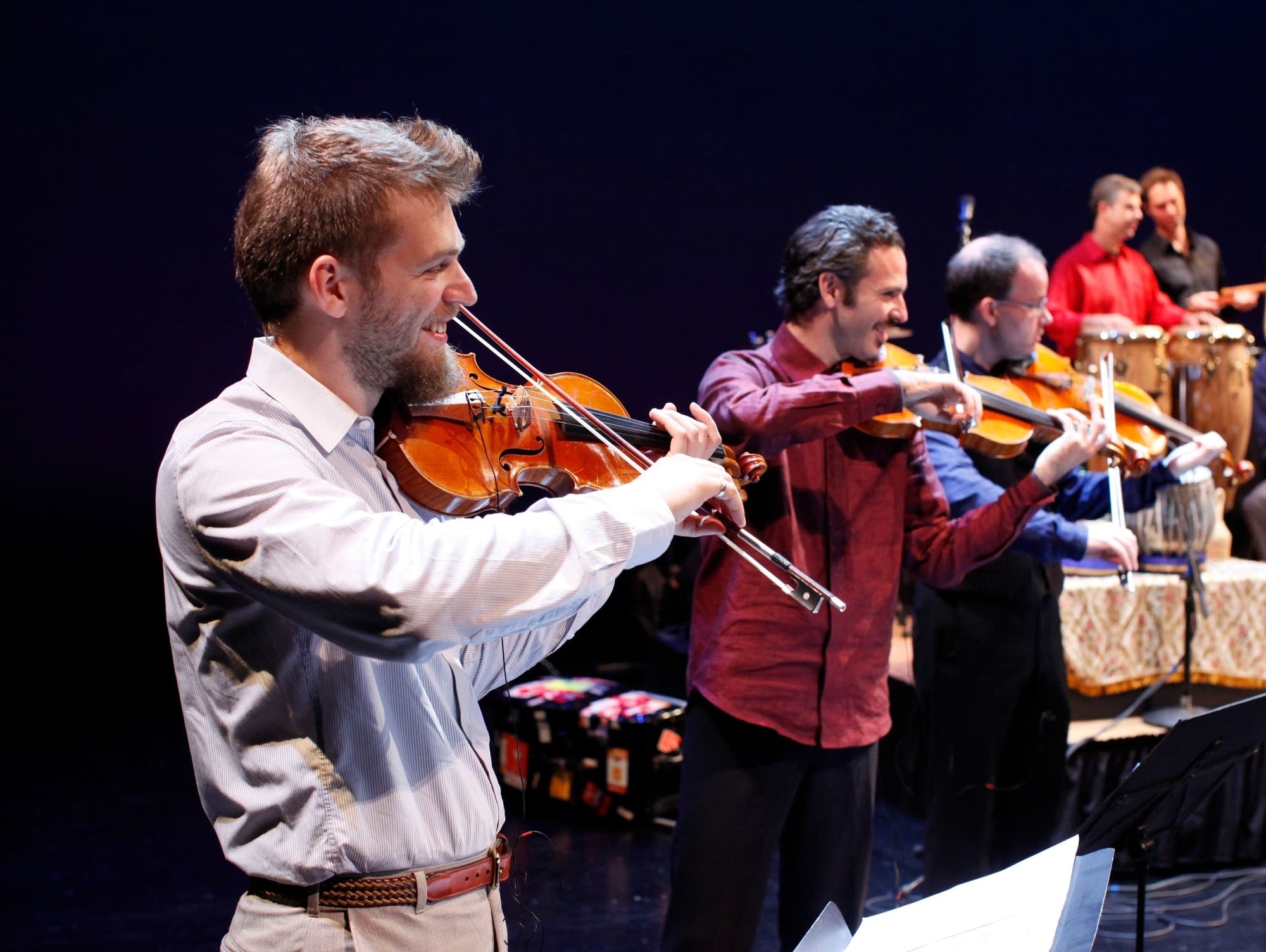 "Absolutely," Johnny says. "You can imagine that scheduling the recording of an album like this is very complicated. In the case of Toumani Diabate, who is one of my musical heroes who is the master of the kora, the African harp from Mali, Toumani was really excited to work with us on this album but he is in Mali and he was not traveling to the U.S. any time soon. So we recorded the track without him, sent him the track and then you know a little flash drive showed up in my mail from Mali through Paris with Toumani's playing on it. That was like one of those moments where I was super excited and a little bit nervous but the result turned out to be really beautiful."
And Abigail Washburn is on this recording singing in Chinese. That's pretty phenomenal.
"I mean, Abby has a very, very special story," Johnny explains. "Being someone who has been traveling to China for many years now and who started playing banjo as a way to bring something of American culture to China. I mean, that was her path to being a full time musician and she is such an incredible woman — she is an amazing performer and one of my personal goals was to see Abby and Wu Tong do a duet on this album. And Wu Tong being one of the great musicians from China who is both trained classically and also has a life as a rock star. And is very much involved in folk music. So wanted to bring Wu Tong and Abby together and an idea came up to do Goin' Home. And Goin' Home itself has a really interesting history, the melody being the theme from Dvorak's New World Symphony. And then that melody was set to lyrics by William Fischer and became sort of an incredibly well known spiritual in this country. And to have Abby sing in Chinese and Wu Tong to sing in English as well — that's a first, too. So that's a very special track."
Johnny, you represent home with, "Heart and Soul." Will you share that story?
"I was in a hotel room somewhere in the Midwest, watching TV after a concert … and the movie Big came on. And I was watching this movie and I saw this scene with Tom Hanks dancing on the floor piano, dancing to 'Heart and Soul.' And I had this memory of moving to Israel — my family moved to Israel when I was 12, in 1990. My first day of 7th grade, I didn't know anybody. And before school started I walked into the classroom and there was an upright piano and it was completely surrounded by kids who were banging out 'Heart and Soul,' and many were playing the tune on the other side of the piano. And I just thought, isn't that funny that this song is something that millions of kids and millions of people who love the piano - it might be one of the very first tunes they learn literally around the world. And then we were so lucky to have Lisa Fischer and Gregory Porter join us for a beautiful duet."
Yo-Yo, I was thinking about how there are so many pieces on the album and each of the composers is telling their story of home. What's your story of home that we hear on this recording?
"My story of home is the whole recording because I feel so grateful, actually, that through my great friends in the ensemble that they've introduced me to new worlds and to new friends," Yo-Yo says, "and so for me, the Silk Road Ensemble is very much a creative home. It's a spiritual, artistic home where good things happen. And this is I think one of the really good things that have happened: We now end concerts with Kinan playing the Wedding Song, and he's from Syria and he dedicates this to all the people who fell in love during this time. Now, how powerful is that? Because falling in love, no matter how horrible the situation, is still one of the most human things we can do, a human right, a human privilege. So over and over again I'm taken into these worlds and made to feel welcome. That's my home."