For the last 25 years, British conductor Stephen Layton has been exploring choral music on the other side of the pond. He's added composers like Morten Lauridsen and Eric Whitacre to programs with various groups, including the three choirs he conducts — The Choir of Trinity College, The Holst Singers, and Polyphony, the group Layton founded in 1986.
Recently, Layton thought, Why not bring all this music together on one recording? The result is, American Polyphony. "I thought, 'Well, where did this all come from?' Lauridsen, Whitacre, et cetera," Layton muses. "And of course, it's very obvious where it all came from: It came from the composers on this disc — if you like, the real grandfathers of American music writ large. But it just so happens that all of these guys also wrote some choral miniatures as well as the bigger scores in the case of Bernstein, Barber and Copland."
Two works by Randall Thompson bookend this recording. Stephen Layton says the two pieces tie things together nicely given that Leonard Bernstein once studied with Thompson. "I knew of the Alleluia only because American friends had always said to me, 'Oh, you know Randall Thompson. Everyone sings that, it's all old hat, and it's done everywhere.' And I was intrigued because it's certainly not done everywhere where I come from. Nobody knows it, really. And yet, it is a piece that is performed all over the U.S. And I think … a modern, new equivalent of it would be the Magnum Mysterium of Morten Lauridsen, which I think almost outsold it in terms of vocal scores, you know. So it's super popular.
"It's not actually an easy piece to pull off," Layton continues. "Anything that's virtually wordless — I mean, it has just one word in it — is clearly a challenge. And also, he ratchets the speed up towards the end and that's something that I think has to be quite carefully judged in a short miniature so that it's rather subtle. It's a tricky little number to pull off, I think.
"And I thought, well, if there is this link with Bernstein studying with him, let's investigate," Layton says. "And that's where the last track came in. Then I found this extraordinary farewell, like a requiem text, really. Deeply poignant, very simple in that it's only four- or five-part texture at the most. But clearly, deeply felt by Thompson. And it made a profound impression on me when I played that on my piano and I thought, this is really quite something. And it gave me the idea that this is the way to conclude this album, with this older composer who'd actually taught Bernstein. And it kind of came full circle by beginning with him and ending with him."
In 1955, while he was already in the midst of writing the musical version of Candide, based on Voltaire's play, Leonard Bernstein was also composing French and Latin choruses as incidental music to the play, The Lark. Stephen Layton says Bernstein's Missa Brevis, which is featured on, American Polyphony, is an adaptation of those choruses. "It's an interesting, eclectic piece scored for countertenor, chorus and various percussion instruments," Layton says. "And it was actually the great Robert Shaw in the U.S. who it was written for as a special choral work, and Bernstein modified it from its original inception as a secular cantata. I think it's mightily effective and not that often performed. You need to bring in your bells and drums and things into the choir to perform it. And ideally, you need a very good countertenor or, in this situation when we recorded it, I had two good countertenors with different timbres, different sound qualities. And I thought it would be interesting to juxtapose them throughout the piece."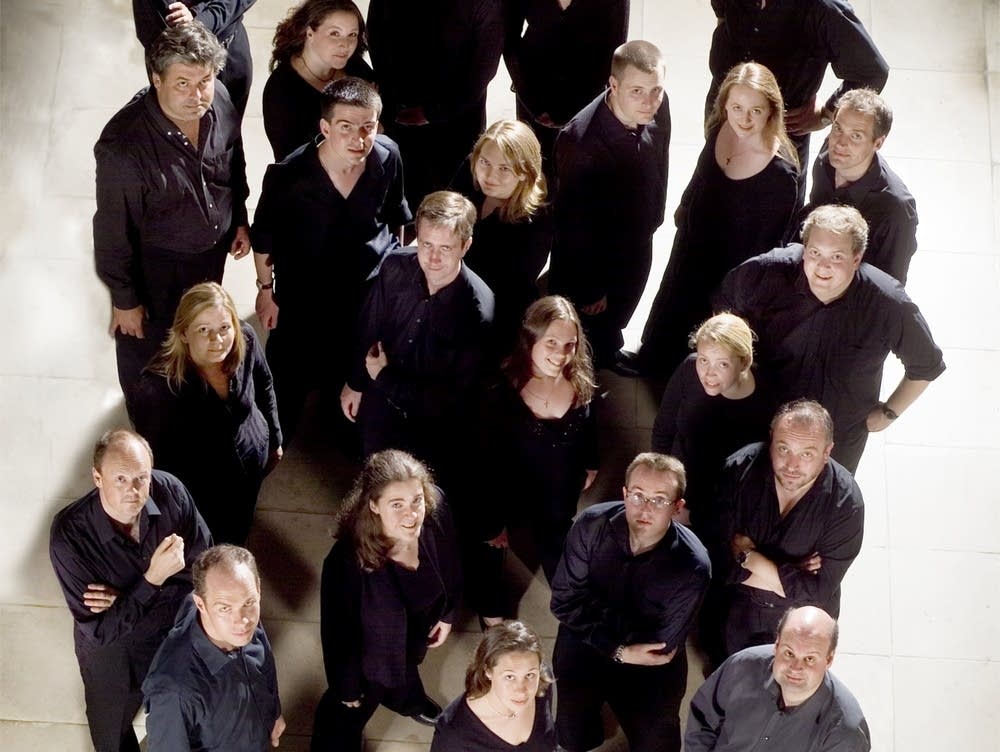 Before he became a mentor to Bernstein, Aaron Copland composed a few early motets that are also heard on this new recording. "He wrote this while he was in Paris, studying with Nadia Boulanger," Layton explains. "But of course, he himself was a little bit dismissive of these motets because I think he saw them as his sort of juvenilia, if you like. But I think history shows now, we look back, that they have stood the test of time, and they're beautifully crafted little gems."
Choral works by Samuel Barber are also nestled into American Polyphony. Stephen Layton says no collection of American choral music would be complete without including this composer's best-known work. "I mean, it's a remarkable tour de force for a choir to sing that piece," Layton says. "And Barber's setting when it's wordless, virtually, on the Agnus Dei, with lots of long vowels, requires a lot of breath, a lot of color and a lot of support of the choral sound for quite a long time. I mean, in most performances, it's a fairly lengthy, passionate piece. So I was particularly drawn to see whether Polyphony could do something with something so well known as that. And, if you like, give our sound world and share it with this great composer's music."
Stephen Layton and Polyphony, reaching across the pond in celebration of Great American choral composers.
Bonus feature: Stephen Layton joined Emily Reese on Learning to Listen where he spoke further about American choral tradition and shared more music from the album.