Angèle Dubeau & La Pieta - Portrait: Ludovico Einaudi (Analekta)
Canadian violinist Angèle Dubeau recently released her 39th recording. She's a very prolific artist, perhaps because of the advice she received while studying with Dorothy Delay at the Juilliard School of Music. "First, she showed me how to develop by myself because I was of course still young, 15 or 16," Angèle says. "And before that, the teachers were giving me all the answers to my questions. But she started to open my mind and widen my horizons saying, 'No, you will have to make the choice later in your career.' So she was giving me more freedom with what to do, the musical intention."
Angèle Dubeau's intention is to explore various angles of classical music, from Vivaldi to video-game composers. Over the past 10 years, she's also developed a series of musical portraits of living composers. Her most recent celebrates the music of Italian composer Ludovico Einaudi.
"He's a master of the melody, and for sure, his works dwell in the notes for a long time," Angèle explains. "You hear him once, and you're hooked. And this happened to me, and of course I'm sure happened to everybody who is listening to this music. He's a divine storyteller in music."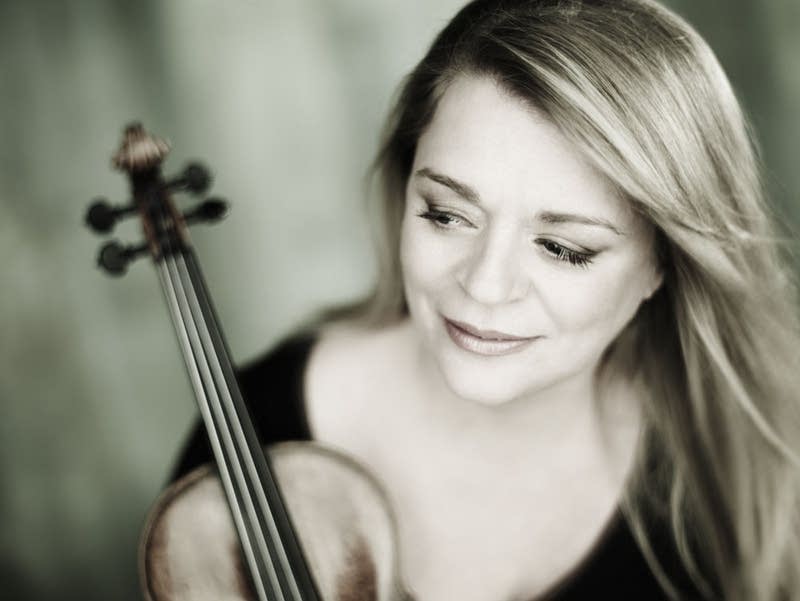 After meeting Ludovico Einaudi in Montreal last fall, Angèle quickly gained his approval to move forward with this project. Choosing the right pieces became a creative and personal challenge for Angèle, who was diagnosed with breast cancer in January 2013. It was during that difficult time when she first discovered the healing music of this composer. "Well, of course when I saw the two titles, Life and Experience, I thought first that it was very evocative for that period of my life," Angèle says.
She explains:
"From Life — what I know, because I went through with Mr. Einaudi a little for each piece — he told me in that particular piece, he was inspired by the folkloric element in the music. So when you listen to this piece, you can see that the violin is really in the center of the music, I would say, it's just like I would be a fiddle player, just going with all those breaking chords and going very fast and many notes to play.
"Mr. Einaudi is a pianist and his compositions are composed for solo piano with accompaniments, so here in my album I wanted the violin to be at the center of the music, so that's why I revisited the structure, made some cuts, adding here and there things to give a new aspect and in a way, respecting, of course, the original writing of Mr. Einaudi. I think this new CD, this album of Portrait, is bringing the strings into the portrait, and definitely opens up the work to an entirely different sound." The piece titled "Experience" is a perfect example of how this new sonic landscape was revealed. Angèle created this challenging arrangement with her friend and colleague, François Vallières. "He came with a first version, I tried it, I played it with La Pieta, and then I came to him and said, 'This doesn't work.' Mr. Einaudi used, of course, the piano, but sometimes rhythm section or electric instruments. So we had to go through and find a way to open up the work to complete an entirely different sound of what he already did. The sky's the limit."
That's how Angèle approaches the world of classical music. Good music is good music. And she adds that so much great music is right at your fingertips. "And it is the case with Ludovico Einaudi, which I discovered two and a half years ago. I was just listening. I love to do those exercises, just to go on the Internet and go and try to discover new works and new composers. And that's where the music of Einaudi just spoke to me directly and I thought, 'Oh, it's really a composer that I am fond of and that I want to explore more of his repertoire.' So now the album is done, yes."