The holiday season means music, and for many, it also means gift-giving. Classical MPR's Associate Music Director Jennifer Allen has a look at some of the year's new holiday albums as you consider gifts for the music lover in your life (maybe even for yourself).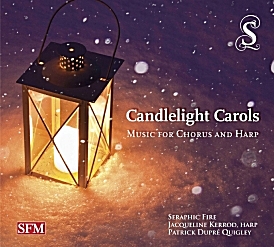 Release Date: Nov. 11, 2014
Label: Seraphic Fire Media
Catalog: 14
Composers: John Thomas, John Rutter, Francis Poulenc, Gustav Holst
Performers: Jacqueline Kerrod
Conductor: Patrick Dupré Quigley
Orchestra/Ensemble: Seraphic Fire
Jennifer says: "Miami-based Seraphic Fire is joined by young harpist Jacqueline Kerrod in this collection of familiar carols and new compositions. Julie Amacher recently featured this album on New Classical Tracks."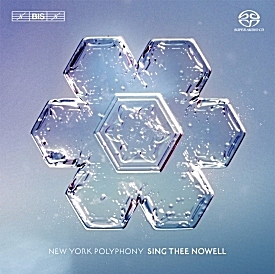 Release Date: Sept. 9, 2014
Label: Bis
Catalog: 2099
Composers: Andrew Smith, Geoffrey Williams, Phillippe Verdelot, Traditional
Performers: Elizabeth Baber, Sarah Brailey
Orchestra/Ensemble: New York Polyphony
Jennifer says: "The warm, resonant tone of vocal quartet New York Polyphony shines on this recording of mesmerizing medieval chants and newer tunes in surprising and intriguing arrangements."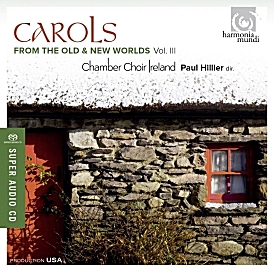 Release Date: 10/14/2014
Label: Harmonia Mundi
Catalog: 807610
Composers: Anonymous, Paul Hillier, Henry Cowell, Gerald Barry
Performers: Fergal [Rehearsal Accompanist] Caulfield
Conductor: Paul Hillier
Orchestra/Ensemble: Ireland National Chamber Choir
Jennifer says:
"Like he did with the first two discs in this series, conductor Paul Hillier has combined a lesser-known but highly talented ensemble (this time, the Chamber Choir Ireland) with a lovingly crafted program of familiar carols from around the globe and holiday favorites from the choir's homeland"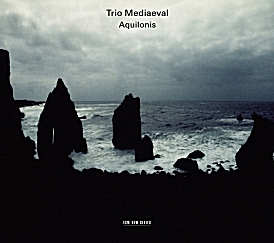 Release Date: Nov. 24, 2014
Label: Ecm
Catalog #: 002215502

Composers: Anonymous, Linn Andrea Fuglseth, Anders Jormin, Andrew Smith

Orchestra/Ensemble: Trio Mediaeval
Jennifer says:
"A recording for the dark, cold nights of December, ancient music for Vespers meets medieval carols and modern compositions on this disc. The voices of Trio Medieval illuminate this material with their signature harmonies and crystalline tone."
Note: Listen for this album to be featured on New Classical Tracks on Dec. 24.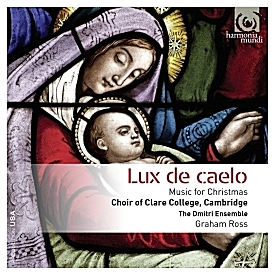 Release Date: Oct. 14, 2014
Label: Harmonia Mundi
Catalog: 907615
Composers: Benjamin Britten, William Mathias, Felix Mendelssohn, Ralph Vaughan Williams
Performers: Peter Harrison, Helen [Soprano Vocal] Lilley, David Miller, William Cole
Conductor: Graham Ross
Orchestra/Ensemble: Cambridge Clare College Choir, Dmitri Ensemble
Jennifer says:
"Dominated by traditional carols and anthems, and punctuated by brand-new compositions by the group's conductor, this grand collection is perfect for those who embrace the traditional British choir school sound."
Performer: Megan Metheney
Self-released, 2014
Jennifer says: "Charming miniatures by famous harp composer Bernard Andres are woven with traditional Christmas tunes on this disc of solo harp music, giving the familiar carols an intriguing twist."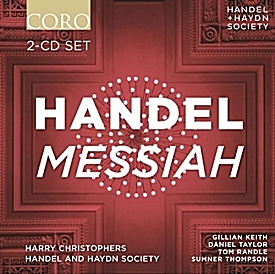 Release Date: Oct. 24, 2014
Label: Coro
Catalog #: 16125

Composer: George Frideric Handel

Conductor: Harry Christophers
Jennifer says:
"Another CD of the Messiah? Yes, and this one's very special: the almost-200-year-old Handel and Haydn Society brought Handel's masterwork to America, and have been performing it annually since 1854. This fresh recording captures the ensemble's familiarity with the piece, and illustrates its importance in Boston's cultural history."