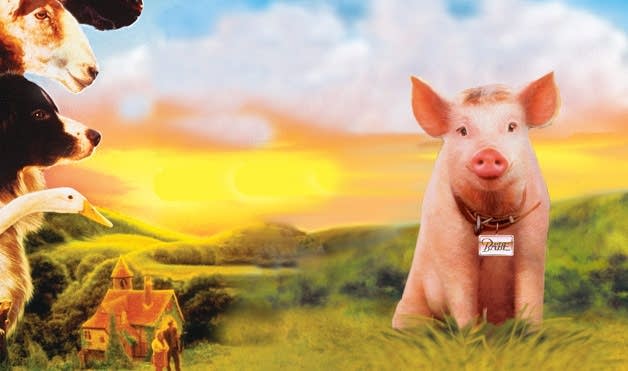 Music sneaks up on us occasionally. I love it when it does. I'm astonished when I meet someone who doesn't really pay much attention to the music around him or her. What I especially love is hearing a piece of music I think is one thing, but it turns out to be something else.
One such piece of music turned up in a family-friendly movie about a pig who thought he was a sheepdog. (I'm also surprised by adults who think they're too old for children's entertainment like movies. It's fun to take some time off from being an adult.)
Babe opened in theaters in 1995, but I didn't see it until it came out on video a year or so later. I noticed the soundtrack immediately, reminding myself to check the end credits for who composed the music. I thought it had either been composed by a contemporary composer or was perhaps taken from Mendelssohn: it sounded like the Reformation Symphony. The musical theme during the opening credits set a triumphant, upbeat, joyful mood, and continued to pop up throughout the movie. I really wanted to know what that music was.
Nowadays, I'd power up my laptop, go online, and look it up on IMDb. Then I'd do a search on the piece to find a music video of it. In 1996, I waited until the closing credits to find out who composed the music.
There were quite a few pieces used in this movie, both popular music and classical. For example, the Toreador Song from Carmen by George Bizet, a piece I knew. Then Cantique de Jean Racine by Gabriel Faure, a work I didn't know. Maybe Faure's music was that wonderful theme. But there was also the fourth movement of Camille Saint-Saens's Third Symphony, the "Organ Symphony." I didn't know this piece either. When I heard it I wondered, was it Faure or Saint-Saens?
James Cromwell, as Farmer Hoggett in the movie, sings lyrics set to the opening theme. This song invaded my mind as an earworm, keeping me humming for days.
I thought of visiting the library to see if I could find recordings of the two pieces. At the time I was busy doing research for a book, and for a while, I forgot about the music theme. It would be nearly a year before I answered the question of Faure or Saint-Saens. That answer came with help.
I was working on my writing one day, listening to Classical MPR in the background, when I heard that mystery music coming from my radio. I turned up the volume. Wow. An organ played the theme. I had my answer. The theme belonged to Saint-Saens's Third Symphony.
The theme in Babe had given me only a taste of what Saint-Saens had written — not only in the final movement of the Third Symphony, but in the other three movements as well, including two or three more familiar themes that I hadn't known belonged to this symphony. What surprise for such a serious symphonic work to show up as the main musical theme in a family movie. This music had sneaked up on me.
That left Gabriel Faure's Cantique de Jean Racine. Would you believe that I did not think about that piece again until I was researching this essay? It's well-worth a listen — perhaps it will "sneak up" on you!
Cinda Yager writes essays, fiction, and two blogs in Minneapolis. She loves classical music and has just published an e-book novel set in the classical music world, Perceval's Secret.
---
Interested in writing about classical music for Classical MPR? Have a story about classical music to share? We want to hear from you!