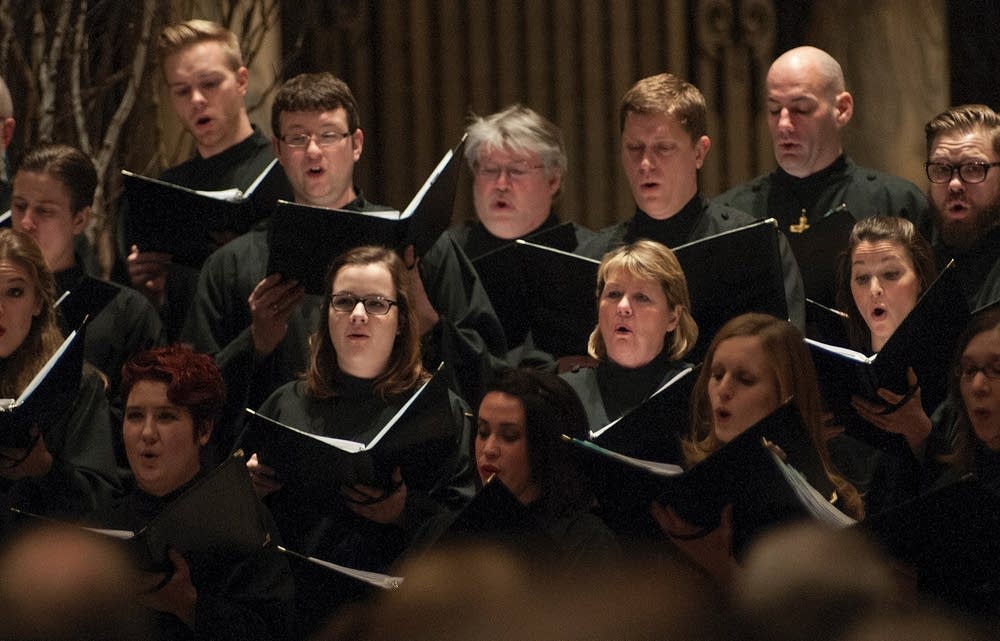 As he watched his father in the last stages of dementia, Tim Schmidt, who sings second bass for the National Lutheran Choir (NLC), would play Thad Fiscella's Ivory Hymn on the piano nearly every day. Schmidt could see in his father's eyes that the piece would help bring his father back to the present moment, causing him to rise in his chair.
It now serves as a source for a new choral and piano work Schmidt has commissioned for NLC called Hope and Quietly Wait, composed by Paul John Rudoi. It's a son's last farewell to his father, who passed away in August.
Schmidt's father, David Schmidt, who had been an Episcopal priest for 30 years, came to the Twin Cities from his home in Pierre, South Dakota in February of last year after several years living with dementia. Watching his father decline, Schmidt almost felt like he was becoming the parent, while at the same time parenting his two young daughters.
Schmidt, along with his family, decided he wanted to do something to honor his father's life. Now in his 14th season with NLC, he has become close with everybody in the group — supporting each other through weddings, funerals, children and divorces almost as if they were a family. As Schmidt talked with his mom and siblings, he suggested that commissioning a choral piece would "a neat way to celebrate my dad's life and have something we can keep, not only from [having] the piece but also hearing the choir perform it," he says.
In their initial conversations, Rudoi says, Schmidt mentioned two passages of scripture that he hoped would be incorporated in the piece. Then, when they met in person at Schmidt's home, Schmidt showed Rudoi the score of Ivory Hymn and "pressed the play button" on a recording, Rudoi says. That's when Schmidt was able to open up about how important the piece was to him — how it reminded him, in a sense, of his father's breathing. "That's kind of how the opening of the piano piece feels," Rudoi says. "It really feels like it's kind of a sine graph."
Fiscella, a contemporary composer and performer based in Missouri, has released several albums of piano music that is — according to his website — "inspired by his life, family, and relationship with the Lord. It is a blend of classical and contemporary sounds, created for relaxing and meditating."
Listening to the specific sections within Fiscella's piece got Rudoi thinking of how they would sound in the choir's voices. The opening of the piano piece sounded like an intro to the piece, for example, as well as a possible ending.
As he dove into the first text from Lamentations, "it totally made sense to me that you could use this statement that 'it's good that a man should hope and quietly wait for the salvation of the Lord,'" as an opening, Rudoi says, because it's such a clear statement.
The other more narrative text that Rudoi uses for the middle section of the piece comes from Romans. It talks about how nothing — not life, death, angels, or demons — can separate us from the love of God. For Schmidt, the text speaks to how even as his father gradually stopped talking, walking and eating, he was "still in there." "No matter what is going on, nothing will separate us," he says.
When he met Schmidt's father, Rudoi noticed that while the majority of the time he was "out of it," at times "you'd see glimpses of a person," Rudoi says. "It's kind of like waiting — that's what this disease does to people." In addition, the friends and family of a person with dementia also wait for the moments when the person comes back to life.
Rudoi incorporated the idea that people are waiting for things to happen, so underneath the piano work is an accompaniment that at times stops entirely. "You're waiting for the piano part to continue," he says. During these pauses, the middle section text comes it, "almost as if he's speaking a sermon and thinking about it before moving on," Rudoi says.
In rehearsals, Schmidt has tended to not sing very much of the song, though he says he's getting better the more they sing it. "What is nice is to stand within the choir and have them sing when I'm not able to," he says. "That's a pretty powerful thing."
Hope and Quietly Wait will premiere this weekend at NLC's All Saints concert. Performances are Saturday, Nov. 1 at 7 p.m. at Normandale Lutheran Church, 6100 Normandale Rd., Edina; and Sunday, Nov. 2 at 4 p.m. at St. Andrews Lutheran Church, 900 Stillwater Road, Mahtomedi. Tickets and more information are available at nlca.com.
Sheila Regan is a Minneapolis-based writer. She writes frequently for the Twin Cities Daily Planet and City Pages, among other publications.
---
Interested in writing about classical music for Classical MPR? Have a story about classical music to share? We want to hear from you!