As part of Member Appreciation week at Minnesota Public Radio, the hosts at Classical MPR have offered this up-close tour of their desks, sharing some interesting items and the stories behind them.
John Zech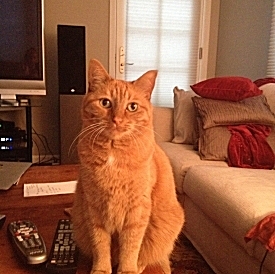 "At my desk, I keep this photo of my kitty, Bijou, on the coffee table saying, 'Time to feed me!' How can you refuse a sweet face like that?"
Julie Amacher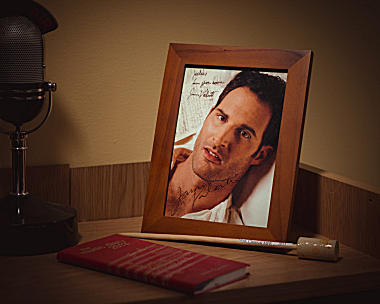 "I have this doubly-signed photograph of opera singer James Valenti. Why is it signed twice?
"The first signature was done by my husband, who gave me the 'signed' photo as a gift with attached opera tickets to see James on the Minnesota Opera stage last season. But the second signature — that's from James Valenti himself! When he was visiting Classical MPR for an interview, he saw the framed photo and he thought it was funny, so he decided to add the second — and authentic — autograph."
Steve Staruch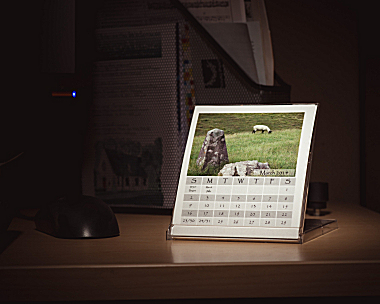 "I have a home made calendar made by my beloved. Naomi, my wife, is a photographer and she makes cards and calendars with her work."
Alison Young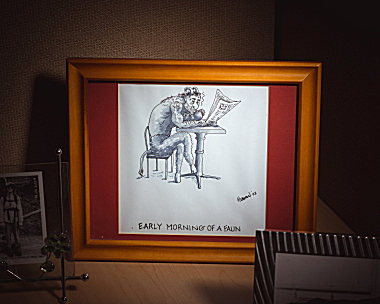 "I have a cartoon created by Joan Herndon, one of my college best friends, called 'Early Morning of a Faun.' It's a takeoff on Debussy's Afternoon of a Faun."
Suzanne Schaffer, Performance Today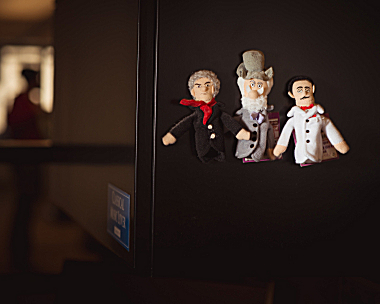 "I have magnetic finger puppets of composers — say 'hi' to Beethoven, Verdi and Puccini."
Mike Pengra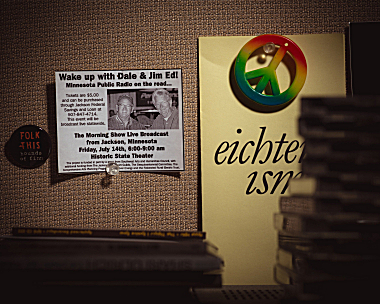 "I have this clipping of an advertisement from the newspaper in Jackson, Minn., from 2006. When The Morning Show with Dale and Jim Ed visited Jackson for a live broadcast that year, an advertiser created this promo for the show and just Googled a photo of 'Dale and Jim Ed'. Turns out there was another pair of guys named Dale and Jim Ed with a radio show, because I have no idea who the guys pictured are. It's a really funny coincidence."
Jay Gabler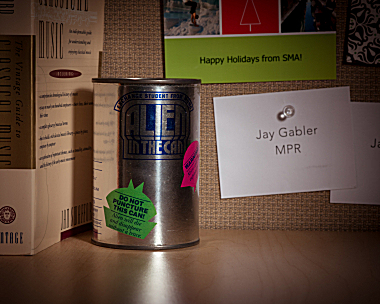 "I bought my Alien in a Can in the late '80s at Ax-Man Surplus in St. Paul. It came with a little booklet explaining that the alien has immigrated from another planet to sample human brainwaves. All the alien needs is to sit there in the can to lead a long, happy life — in the can. If you shake the can, something rattles around in there. When I was a kid, this can was a major conversation piece in my bedroom, with friends and relatives unanimously urging me to open the can and see what's inside. I've never opened it, and now the alien sits with me at my desk, basking in brainwaves from not only me but my cube neighbors Bill DeVille, Steve Seel, Mary Lucia, Mark Wheat and Andrea Swensson. After 20 years in my mom's attic, this must be quite a treat."
Emily Reese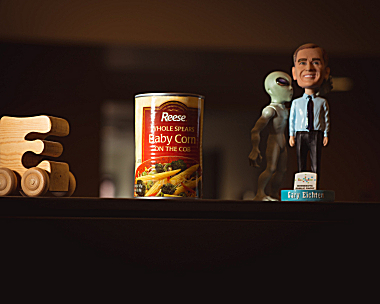 "A can of Reese brand baby corn-on-the-cob spears!"
Elena See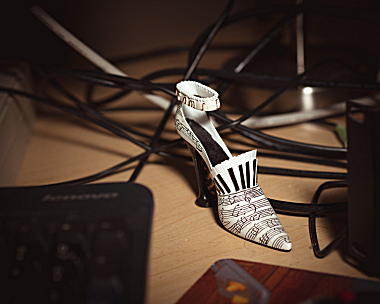 "On my desk, by the lamp, there's a fabulous little shoe … it's not musical, true … but it IS covered with tiny music notes. A friend gave it to me when she realized just how many pairs of shoes I have … which is strange, she thought, since we work in radio and all. I mean, who sees our shoes in the world of radio? No one. So, I almost never wear cool shoes to work, especially now that I'm doing overnights … but at least I have one on my desk."
Fred Child, Performance Today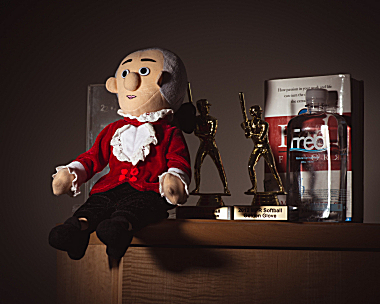 "I have a few musical kitsch items, one of which is this Mozart doll."