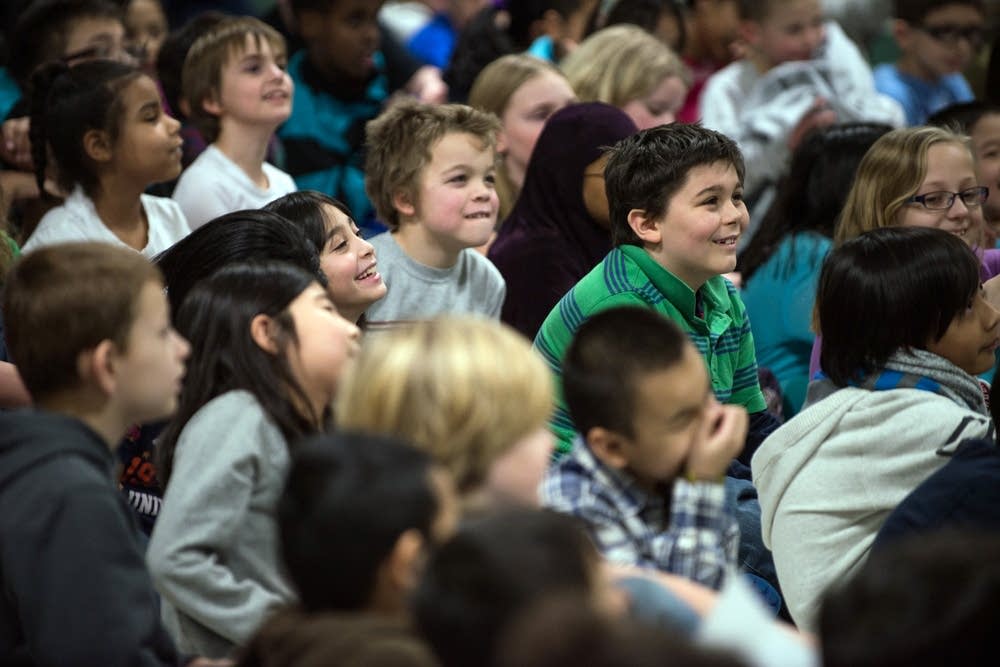 Classical music is a living art, always changing and growing. We asked classical musicians and fans from across the country — including some from our staff — to tell us why they're excited about the future of classical music.
Michael Tilson Thomas, founder and director of the New World Symphony
It's exciting and reaffirming that so many young people today are making meaningful connections and contributions to classical music. From the talented new voices continuing the tradition of maverick American composers to young musicians emerging from America's orchestral academies ready to engage with audiences and serve their communities. But most of all, the countless young people discovering for the first time that this music is for them, that it is about them, and about the world they inhabit. This 500-year-old tradition remains vibrant today because of their enthusiasm about the discovery of what it means to be alive.
Jeff Van Driel, Naxos of America CEO
Classical music is certainly not "dead." In fact, it is very much alive. Never before has classical music been so available to the masses. Never before has the potential market been so large. Certainly, the classical music business has suffered during the recorded music downturn of the first decade of this millennium, and clearly music consumption and performance continue to evolve. We must continue to innovate; we must become entrepreneurial, creative, flexible and opportunistic. And most of all, we must continue to be passionate.
Dan Gawthrop, choral composer
If classical music is dead, as some have suggested, then the choral segment of the genre must be populated by the most lively and enthusiastic group of zombies anyone ever saw!
As I travel the country attending conferences, giving master classes, doing residencies, and appearing at premiere performances, I continue to encounter singers and audiences exhibiting a level of engagement that would be the envy of sports teams and political action committees, let alone other classical music institutions.
Certainly, reduced funding is a reality and it has forced some groups to curtail programming and in general make do with less. Fortunately, maintaining a choral organization is a good deal less costly by its nature than supporting an orchestra or a performance series.
Even the acknowledged aging of the classical music audience is a bit less of a concern in the choral field, as youth continue to show amazing enthusiasm for a cappella music both amateur and professional. In public schools, colleges, and communities, choral ensembles are being forced to audition and turn away prospective members. As those younger singers age, some may eventually leave active performance behind. Many, if not most, will nevertheless continue as engaged listeners and supporters. Meanwhile, both singers and audiences are being exposed to music which, while strongly popular at its core, already contains a substantial percentage of crossover material. Many will find their curiosities piqued and will be led into the mainstream of the classical repertoire.
Thus, in choral music the future of both performers and a growing audience seems on solid footing. The zombies are coming; sing hallelujah!
Julie Amacher, program director for Classical MPR and Classical 24
At Classical Minnesota Public Radio and Classical South Florida, we're seeing new and diverse audiences embrace classical music — and that's a reason to be very excited for the future of this living art form.
Composers today are crossing boundaries and working in multimedia, and we're helping our listeners make connections between the classical repertoire and the music they hear in games and movies. In our weekly Top Score feature, Emily Reese talks with video game composers and explores how classical music has influenced their work. Flicks in Five is a weekly feature that brings film music into the mix as Lynne Warfel presents the scores that have introduced many listeners to classical music.
Classical South Florida was launched six years ago in the Miami-Fort Lauderdale market, reaching a market that had previously been un-served by classical music for seven years. Our research tells us that about 65% of our Classical South Florida listeners are Hispanic, and that many of our Spanish-speaking listeners are crossing language differences to share the universal language of classical music.
With Classical MPR, Classical South Florida, and Classical 24, we're proud to give audiences across the country opportunities to discover — and re-discover — classical music. Through tweets, Facebook posts, e-mails, and phone calls, we hear from our audience that the music we play is relevant to their lives every day.
Emily Reese, Classical MPR host
I don't have a lot of patience for the question, "Is classical music dead?" Classical music is not dead. If it dies, it certainly won't happen during my lifetime.
Think for a moment about one of the examples put forth in this article. The author uses scenes from the television show Modern Family to make a point about classical music's lack of acceptance in pop culture. In fifty years, no one will remember Modern Family, but there will still be a place to go see an orchestra play Beethoven.
If you claim classical music is dying, you aren't listening to, or watching, any media. Like, none. Money pours into film, television, and video game studios to create compelling, original soundtracks recorded by live, classically-trained musicians. That won't phase out overnight. Those musicians, 30 years from now, will still be classically-trained.
Classical music has been around for hundreds and hundreds of years. People still study it, read about it, listen to it, watch it, practice it, write about it, and talk about it. It's too ubiquitous to die.
Besides, there are people like me who won't let it.
Vaughn Ormseth, community impact manager, Classical MPR
In a feisty retort to Slate's recent R.I.P. for classical music, Will Robin, blogging for the New Yorker, notes the peculiar intensity the art form inspires among its self-appointed pathologists: "There is a creepy bloodlust to the doom-mongering of classical music," he writes, "as though an autopsy were being conducted on a still-breathing body." Robin's evisceration (if we can stick with bloodlust for the moment) of the doom-mongerers' logic is delicious to read, and the accompanying graphic by Andy Doe chronicles some 19 "deaths" of classical music since 1324, alongside their causes.
Yet as lively and welcome as these defenses are, they also transmit an underlying weariness. Why must classical music in the U.S. keep having to justify its existence over and over again? Responding to Slate's requiem, none other than Alex Ross tweeted his retirement from writing classical-music-isn't-dead articles.
Weariness (and perhaps defensiveness) aside, I actually think it's critical for classical music to keep articulating its significance to both itself and the world, self-evident and often indefinable as its virtues are to those who cherish them. But doing so in the face of bitter lockouts, dwindling audiences, and deep cuts to music education can become demoralizing.
I feel tremendously lucky, then, that my work at Classical MPR often takes me to audiences who couldn't care less about grim trends and doomy media: elementary schoolkids. As part of MPR's Class Notes in-school artist programs, kindergartners through sixth graders across the state get to experience classical performances in their own classrooms and gymnasiums, often for the first time. It's less "classical music" to them than as it is simply "music," and it's nearly always a revelation.
The students get to see a beautifully wrought harp twice their height before hearing its starlit vibrations. They can touch the strings of a 300-year-old double bass, learn and hear how little slivers of shaved cane help shape a woodwind's personality, enter the sensorium of a guitar quartet, or feel the unexpected bursts of power from a string quartet (which can sometimes be almost scary). All of us — especially kids — live in a rising tide of amplified, hyper-produced sounds, and classical music and its acoustic peers are often nearly drowned out by it. There's really no substitute for getting to know this kind of music first-hand, on the gym floor — to feel, if only in an early way, why it gets under your skin and comes to arouse such passion and hysteria in the grown-up world.
Andrew Staupe, pianist
There has been much talk recently about classical music and how it is becoming an anachronism in terms of its cultural relevance. From my own observations and experiences as a soloist, I would argue that a very important solution to this issue is being successfully addressed in many arts organizations today: initial exposure to classical music. From firsthand experiences performing for children, as well as my own musical background, I can confidently bear witness to the joy and awe inspired in youth when they have an opportunity to hear classical music live.
When I was a toddler my mother used to bring me to performances of a Renaissance choir, and years later I suddenly had the burning desire to form a choir myself. This was not a random passion, but one that had clearly gestated within me for years. I was exposed to piano, violin, ballet, jazz, and musical theater at a very young age and it is no surprise that I chose classical music as my career. In fact, I have participated in every single one of those performing arts at one time or another!
When playing a concert for children, there is no feeling quite like seeing that passion and excitement for classical music in their eyes for the very first time. They are moved in a very tangible and beautiful way. This initial exposure is so vitally important to our youth, and many orchestras and performers are actively sowing the seeds for this future audience. Children today are still wowed by classical music if you let them, and that is most certainly a reason to be excited about its future.
Emily Green, co-founder of the Young Musicians of Minnesota
"The future of classical music — why would this excite a teenager?" is a question asked far too often. Others ask, "Do teenagers even listen to classical music anymore?"
My first response to these questions is, "Have you ever heard of the Young Musicians of Minnesota?" For those of you who don't know who we are, we're an organization of young musicians whose focus is "to promote classical music amongst other young musicians through student advocacy." That's right: the YMM is a group of young musicians who have bound together to keep classical music alive in our state.
I, being a 17-year-old whose life revolves around classical music, can say that we choose to keep the music alive through the YMM because of the exciting future that it has to offer. Each composition you play has a different story behind it: the dynamics, style, tempo, and mood can change. Not only that, but music is a way that students can express feeling and emotion without using words. Classical music is something that young musicians and teenagers look forward to playing each and every day. Also, being that a lot of us are high school and college students, many of us are looking to become professional musicians one day — in a major U.S. orchestra. Our careers and futures rely on the future of classical music.
You may say then, "Well, there are only a few teenagers who are excited for the future of classical music." But, you are again wrong. The Young Musicians of Minnesota comprises 700+ students from around the state.
So, next time you wonder where all of the young classical music fans are, just know that we're here in larger numbers than you can believe. We're excited for the very same reasons that previous generations were: The diversity of classical music. The surprises that come in each movement, with each different piece. The escape from everyday life that music provides. The careers that it creates. The memories it makes. And lastly: the people that it brings together.