Every weekday morning at 10 a.m., the hosts at Classical MPR play a standout work based on the theme for the week. We call these works Morning Glories.
This week, a major exhibit of the art of Henri Matisse is opening at the Minneapolis Institute of Arts. Matisse's life coincides with a period of abundant creativity by French and French-based composers. Our Morning Glories come from that era and reflect some of the same themes that Matisse explored in his colorful, personal art.
Monday
Satie: Gymnopédies
Three slow, solemn dances whose title suggests the world of antiquity--though what exactly Erik Satie meant by "gymnopédie" has never been conclusively determined.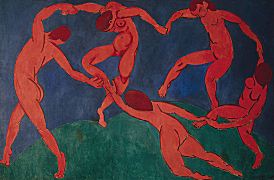 Matisse,
La Danse
(1909 - 1910); Hermitage Museum, St. Petersburg.
Tuesday
Debussy: Images, Bk.2
The "images" evoked here are bells heard through leaves; moonlight; and goldfish in a pond.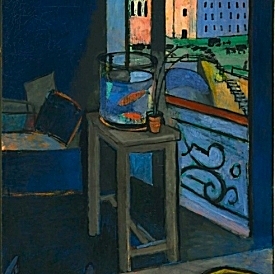 Matisse,
Les poissons rouges
(1914); Centre Georges Pompidou, Paris.
Wednesday
Martinů: The Kitchen Review
The Matisse exhibit includes his book, "Jazz" — here's a jazzy work from Bohuslav Martinů, written during his Parisian years.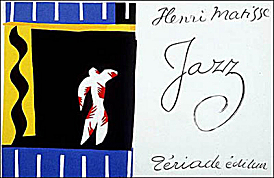 Cover art of Henri Matisse's
Jazz
(1947); Musée Matisse, Nice, France.
Thursday
Fauré: Nocturnes for Piano (selected)
Like Matisse, Gabriel Fauré can be considered an artist of "the great indoors."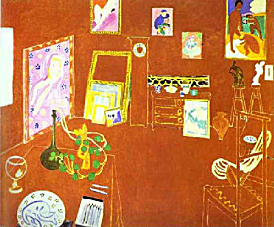 Matisse,
L'Atelier Rouge
(1911); The Museum of Modern Art, New York.
Friday
Ibert: Escales (Ports of Call)
The ports are all Mediterranean cities — described with exuberant orchestral color.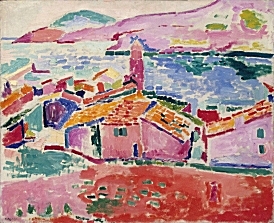 Matisse,
Les toits de Collioure
(1905); Hermitage Museum, St. Petersburg.