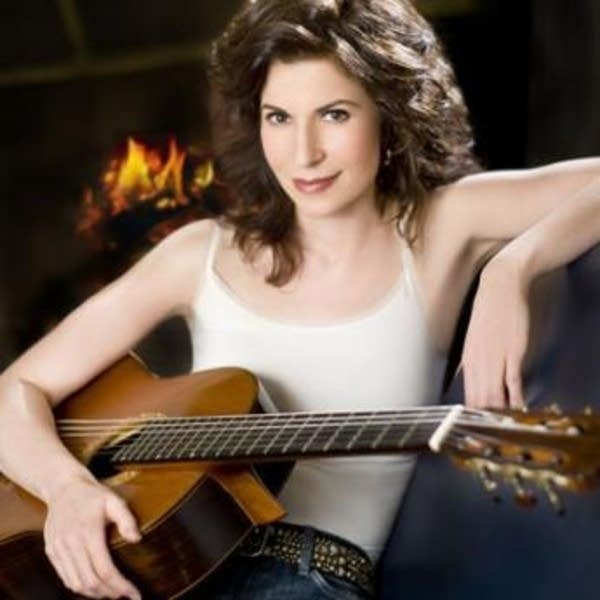 On Wednesday, February 19, three-time Grammy winner Sharon Isbin will be teaming up with jazz icon Stanley Jordan and one of Brazil's leading master guitarists, Romero Lubambo, for an evening of unique Latin, Brazilian, and jazz music at the Dakota Jazz Club.
The performance is part of an 18-city tour. Isbin told Classical MPR's Michael Barone that with the players' improvisation and jazz backgrounds, each show will be a chance to grow with the music. "We're going to sound very different at the end than we did at the beginning. It's going to be a new menu each day," said Isbin.
Lubambo agreed: "The music is going to morph into music that's ours. Every moment is unique, and people love to see when you go for it and take a chance."
All three of these master guitarists actually began their music careers with different instruments and different styles before finding their way to guitar. Isbin, who grew up in Minnesota, began with the piano at age six. She gave it up when her family relocated to Italy a few years later. Her older brother asked for guitar lessons, and when he was introduced to the teacher, who had studied with Sigonella, he lost interest — he wanted to be Elvis Presley, not study classical. Isbin took his place at the lesson and hasn't looked back.
A self-taught jazz improviser who grew up with lessons from classical guitarists (Jeff Van, Oscar Ghiglia, and Andres Segovia), Isbin was challenged to go deep within herself and figure out how things work. "It creates a different kind of picture, and my fascination with other styles really began in New York. It was a really wonderful way to begin to explore the world of guitar playing."
Jordan and Lubambo followed a similar pattern of self-discovery before finding a true passion for the guitar and their unique styles. Like Isbin, Jordan also started out with the piano at age seven, until his family had to sell it for financial reasons. At 11, he convinced his parents to buy him a guitar, which he's played ever since.
"I realized that even though guitar was my real true instrument, there were things about the piano that I missed," Jordan told Barone. "I tried experimenting to see if I could bring pianistic textures to the guitar and that was the motivation to developing this technique called the touch technique. It's like playing the guitar like a piano."
Lubambo was raised with a family of pianists and string musicians, and Romano took it up himself when he was 8. His younger brother's sudden death resulted in shock and a hiatus from music for a few years. "When I was 13, I saw my uncle playing guitar all the time and I started playing guitar. One day I took his guitar and I played a song. I didn't try to play a song, I played a song. A simple song, but a song."
He started playing bossa nova and classical guitar, but his father's purchase of a Stratocaster led him to learn new styles of blues and jazz on an electric guitar. "I learned everything at home by myself. It was a nice way of learning my own technique. I took the guitar and tried to find the easiest way to do what I wanted to do," Lubambo told Barone.
All three musicians are sure that their February tour is going to be a unique and honest experience. "Every concert's going to be different, depending on the weather, the people, the coffee," said Lubambo. "I'm very excited about this month if not only for the music but for these beautiful people and traveling together."
Rebecca Schultz, a Minneapolis transplant by way of Chicago, is a reader, eater, and tweeter. She blogs at rebecca-schultz.com.
---
Interested in writing about classical music for Classical MPR? Have a story about classical music to share? We want to hear from you!