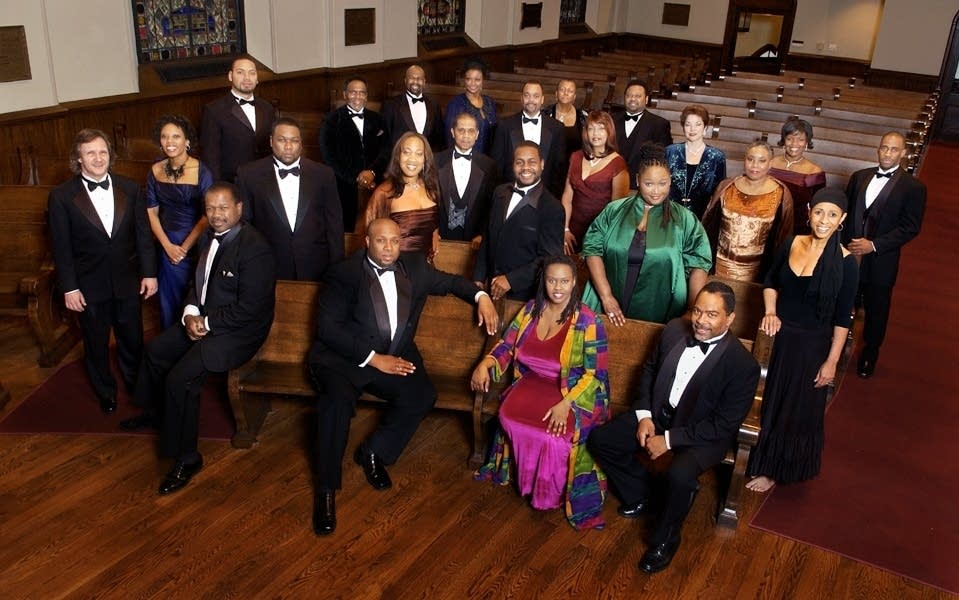 "The ensemble, made up of operatic voices from around the country, produces a sound of such sumptuous power, energy and commitment that one is hard put to find words worthy of the effect they make on an audience..." - Richard Storm, Sarasota Herald-Tribune
Classical Minnesota Public Radio will present the critically acclaimed American Spiritual Ensemble in concert next Thursday, February 13.
Hmm...normally I would use the press release provided by the ensemble, but I find that to be way too understated for what they actually bring to the table. Let me share the real gospel truth with you!
Imagine a collection of twenty operatic rock stars who have ginormous instruments, who possess tons of stage presence, who have limitless dynamic contrast, and who are steeped with soul. Once you get that picture in your head, add the exhilarating conductor Dr. Everett McCorvey (who is also an accomplished singer) to the equation. Boom! We have just had a musical explosion of (excuse my colloquialisms) ridiculous proportions. So when I say they will tear the roof off (think the first 20 seconds of Parliament's "Give Up the Funk"): that means you better come prepared to be blown away.
Come and join us to hear an impressive collection of spirituals, musical theater selections, and jazz. Highlights include Moses Hogan's Didn't My Lord Deliver Daniel; the luscious lyric tenor offerings from tenor John Wesley Wright singing Bring Him Home; and the resonant rumblings of bass Kevin Thompson singing Ol' Man River. I'm most excited about the Metropolitan Opera diva Angela Brown being featured as the Soprano soloist in Roland Carter's triumphant spiritual You Must Have That True Religion. This woman is so good that you might just catch the spirit, stand up, and get your praise on!
You will definitely want to be at Central Presbyterian Church on February 13th at 7:30 p.m. Tickets ($25) are available here. Explosive singing fused with incredible artistry will equal an unforgettable night of music.