There's always an element of spectacle to the Duluth Superior Symphony Orchestra (DSSO) New Year's Eve concert. The 2012 show featured the Mass Ensemble and its enormous Earth Harp, and in 2011 the orchestra accompanied the Peking Acrobats. (I will never forget their chair balancing routine.) In 2010, the DSSO performed "Cirque on Ice" with guest artists in the brand-new AMSOIL Arena.
This post is about the DSSO concert on Dec. 31, 2013. This year's DSSO New Year's concert, "New Year's at the Oscars," will be co-emceed by Classical MPR's Lynne Warfel.
The concert to welcome 2014 featured Broadway veterans Joan Hess and Kirby Ward singing and dancing to tunes such as "All That Jazz," "In the Mood," and "I Could Have Danced All Night." My friend Caroline Laurent, a University of Minnesota-Duluth graduate student from France, has come to see me play horn in a few of the DSSO concerts over the past year and a half. I knew the New Year's Eve show would be a change from the Masterworks concerts she had attended before, and I wanted to share with her — and with the Classical MPR audience — the fun and challenges of presenting a classical concert with "all the trimmings." So, Caroline and I coordinated this text exchange. My side of the conversation is in italics. (Note: I edited out about 100 smiley faces and winks.)
Pre-show
So what are you expecting from the show tonight?
I'm expecting something pop-y. That's the one thing you told me that stuck in my memory.
Yes, it will definitely be more pop than usual. But old-timey pop.
Ok. I'll try to recognize what I can.
So about the fashions: what are audience members wearing? Are they dressed up for the evening's events?
Not really. I think they're wearing clothes to combat the cold! [The temperature was well below zero.] Gwen... they're ooooold!
Haha. No sweet young things, huh?
Nope. :-)
Well, let's not dwell on the problem of aging audiences tonight. From my perch backstage I see someone in quite the fur coat. So fashion meets function.
I saw her too. And a blonde girl came in with a beautiful dress and white furry thing on her shoulders.
Nice!
Yes. But the rest of the audience is rather casual.
A couple more minutes and then I'll need to get my head in the game. Lots of tricky rhythms tonight!
Good luck.
Thanks. No solos to worry about, at least. But I will have to be careful not to pay attention to the soloists too much. I tend to do that with singers, dancers, etc.
I have faith in you.
Okay. Ta-ta until intermission.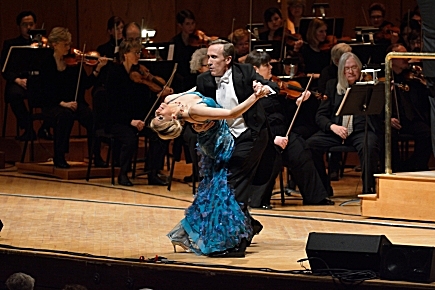 During intermission
Wonderful dancers and singers! The music makes me think of Marilyn Monroe movies. People started to clap their hands during the swing part then stopped, unsure that they could. I definitely did not sleep! LOL. I hope the second part will be as great.
I am having a great time, too. So not to belabor the fashion aspect, but her dresses were gorgeous!
Yup, I loved her dresses, too.
That blue-green dress made me think of a peacock.
Ha ha! It made me think of the Caribbean Sea.
That too. I wish I could dance like that! My eyes were definitely drawn away from my part a few times.
Me too...and she has a nice body.
Yes. "Cheek to Cheek" was so romantic. I love that song.
It definitely is the most entertaining show I've seen here.
As much as we ate for dinner, I am developing a taste for dessert already. And champagne, of course. So I forgot to ask about the most important thing: can you see me from your seat? :-)
Not as well as when I'm upstairs, but I do see you, yes. Too bad I can't take pictures during the show!
I know. All right, time for part deux!
Good luck again!
During the second act
Wow, so much technique! The way they sing and the way they dance! Now what is that super slow song? West Side Story? Must be. Oh! Her sparkling purple shoes!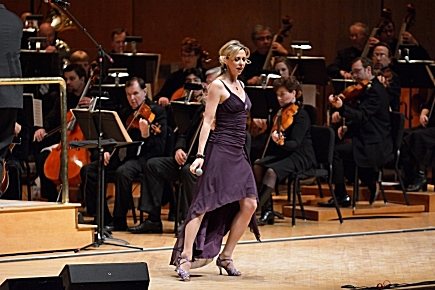 Post-show
!!! That was a fab concert! Thanks for inviting me.
You are very welcome! And the stars are so nice — I just chatted with them briefly backstage.
What about?
I thanked them for such a great show and said I had just seen one of the numbers ["You're Just in Love" from Call Me Madam, starring Ethel Merman] for the first time over the holidays. They were surprised because it's not very well known these days.
Cool — maybe they'll come to the after-party.
And it's time to change for that party. My concert black isn't very festive — I am tempted to steal a dress.
I would be, too!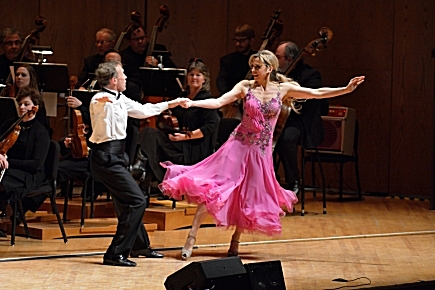 Gwendolyn Hoberg is an editor, writer, and classical musician. She lives in Moorhead, plays with the Duluth Superior Symphony Orchestra, and writes the Little Mouse fitness blog. She is also a co-author of The Walk Across North Dakota.