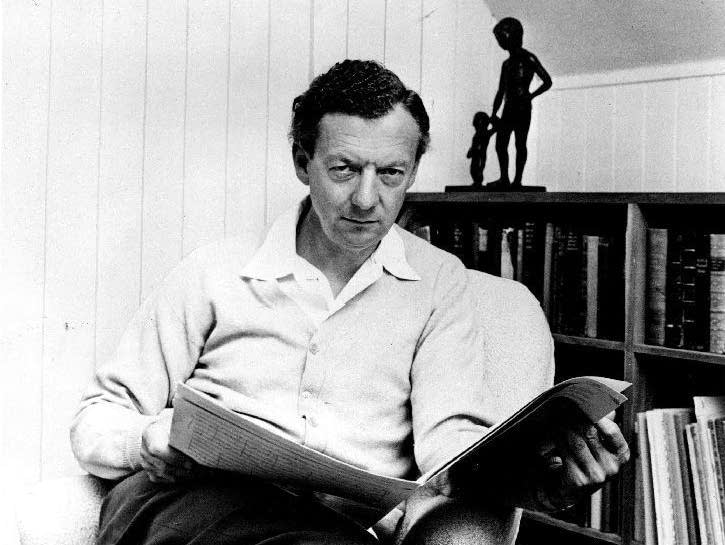 Benjamin Britten was born Nov. 22, 1913. To celebrate the centennial of his birth, we'll hear five works written by the influential British composer for some of his greatest muses.
Monday
Variations on a Theme by Frank Bridge
Saint Paul Chamber Orchestra; Sabina Thatcher, viola
Bridge was one of Britten's first composition teachers, who encouraged Britten to find his own compositional voice (even if it broke ties with decades of tradition).
Tuesday
Cello Sonata
Mstislav Rostropovich, cello; Benjamin Britten, piano
Rostropovich's close friendship with Britten inspired the composition of several works for his instrument; besides this cello sonata, Britten also wrote a Symphony for Cello and Orchestra and three suites for solo cello.
Wednesday
Diversions for Piano Left-Hand and Orchestra
London Symphony Orchestra; Benjamin Britten, conductor; Julius Katchen, piano
The famed pianist Paul Wittgenstein, who lost the use of his right hand in World War I, met Britten in 1940. Diversions was premiered by Wittgenstein in 1942, but was not immediately successful, since many critical accounts of the performance focused on Wittgenstein's astonishing abilities.
Thursday
Suite for Harp
Osian Ellis, harp
Welsh harp player Osian Ellis was Britten's go-to harpist. Britten wrote many prominent parts for harp in many of his pieces, including War Requiem and A Midsummer Night's Dream, and frequently involved Ellis in their composition and performance.
Friday
Hymn to St. Cecilia
Cambridge Singers; John Rutter, conductor
Britten and poet WH Auden became close friends while working together at the General Post Office Film Unit, writing text and music for documentaries. Auden's poetry inspired many of Britten's pieces, including this celebration of the Patron Saint of Music.