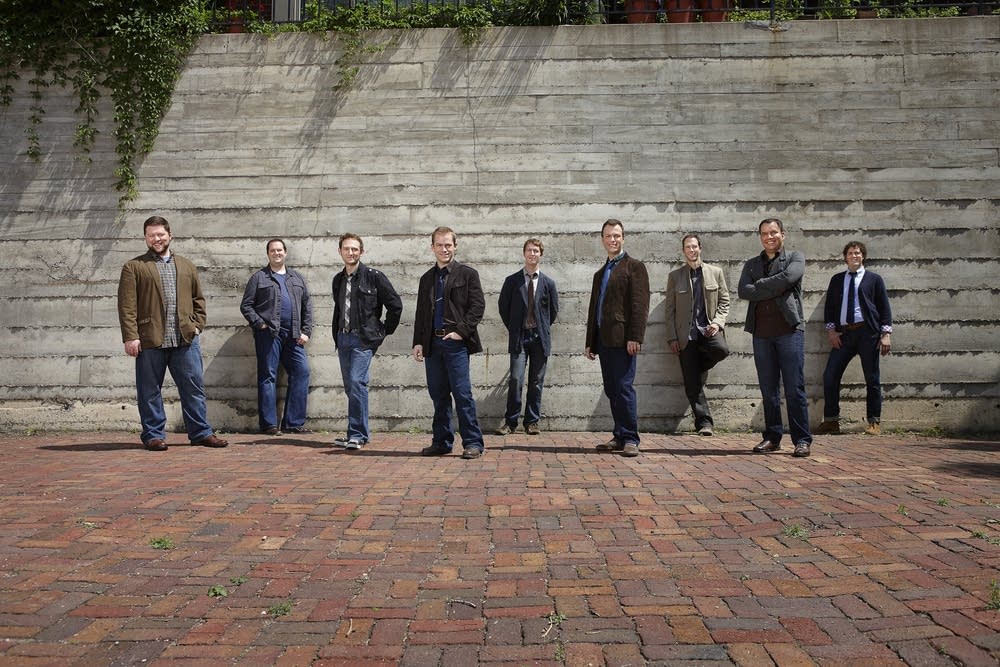 Recently on New Classical Tracks, we spotlighted the latest CD from Cantus, On the Shoulders of Giants. We had the chance to sit down with two of the group's members, tenor Aaron Humble and baritone Adam Reinwald, to talk in-depth about many of the pieces including on the album — why they chose to perform them, what they know about the pieces' history and how they fit into the album's overall theme and message. Enjoy their thoughts below.
On how the themes behind the album's title — a reference to the quote by Isaac Newton, who said "If I have seen further, it is by standing on the shoulders of giants" — is reflected in the recording:
AR: With this album, we wanted to look at the ideas of innovation, influence and culmination. While not every composer is a major composer, and while not every work is a major work for men's voices...there's a good bit in each piece that leads into something that comes out of it. Not all these pieces are necessarily giants, but they may have influenced a giant that came out of them.
On how French composer Perotin's "Sederunt" shattered the existing notions of church music:
AH: I'm sure there were other people in the world that had combined multiple parts before. But Perotin was the first person who was smart enough to write it down and put it in a safe place. So this is the record that we have, this was the first existing piece of written-down, documented polyphonic music.
It's really fascinating to me to see how these composers — whether it be Perotin or later in the Renaissance or even into the Baroque — how Gregorian chant has such a huge influence. At the time of Perotin, that was all they had. He was taking the tools, and the material and the media he had which was chant and playing around with it until he found something that was innovative. And if indeed the people in the community there in Paris had really just heard unison chant singing...can you imagine how RADICAL it would have been to hear those open fifths? And all the harmonics that just sparkle in an acoustic like that?
On the ubiquity of Randall Thompson's "Alleluia"
AH: Interestingly, I have been singing in choirs for decades, and I had never sung the Randall Thompson Alleluia until I came to Cantus. Because I think that all the conductors I worked with had made that decision: No I'm not gonna do this piece because everybody does it. So having the chance to do it with Cantus has been a treat, because my first experience wasn't the 3rd United Methodist Church or whatever, it was with Cantus. So that was a treat.
Randall Thompson thought this was a very somber Alleluia and thought that there should be a tinge of sadness in the Alleluia. I don't know that we've ever felt that strongly as he might have alluded to. We see it really as a marvel of great choral writing. Almost symphonic, in that it's one word...but he's taken that one word and made it almost like a string quartet. And so there's a lot of music for music's sake in that work...but at the same time it's got this very powerful, very loaded word, Alleluia, as its base.
On the slow, relentless downward musical motion of "Crucifixus" by Claudio Monteverdi:
AH: It's hard! Because of all the chromaticism, especially the descending chromaticism. That's one of the most challenging things for voices. So we spent a lot of time fine-tuning, getting the nuts and bolts together. But then adding that emotional layer on top of it, created a completely different experience singing it.
There's really not a melody. It's just like a gesture. The phrases, as they fall chromatically, and the way that the two parts (the baritones and the tenors, or the high tenors and the basses) are always playing off of one another. And the overlapping of the phrases, it's almost like a tone poem, it doesn't sing like a song sings. It's sectional, with all these pieces weaving together to make the whole.
AR: We often think of Baroque music as being very fast and very agile. But really, what Monteverdi, writing pretty solidly in the Baroque, is trying to say is that music should offer an emotion, and the text that you're singing should be brought out emotively. He chooses to paint this very very dark text with these very emotion-driven chromatics.
On the decision to perform U2's "MLK" on the album:
AR: I think that it's a great piece because it's so simple, and so open, and it's just a beautiful piece. Really hints at the essence of Dr. Martin Luther King, and allows you to experience the text in your own way. Bono from U2, he wrote that. I think the real brilliance of the text is that he doesn't mention Dr. King. It's all in metaphor and just allows it to be what you want it to be.
AH: You know, I think it's fascinating, it's almost like he took the dedication that you'd put at the top of the score and made it the title. Because if you just heard the piece you probably wouldn't know that it was about MLK, but the depth of emotion that he puts into the text, how much care and respect went into that...it's really a touching gesture. And the music reflects it really beautifully too.
On how Mendelssohn's "Lift Thine Eyes" fits into the album's theme:
AR: A piece that isn't really a giant of music, is Lift Thine Eyes from one of his oratorios. While the piece itself is quite lovely, it showed the influence he had on later generations writing oratorio, and the influence that he took from previous generations — Mozart, Haydn, their oratorio style. So it was kind of this idea of both culmination, and influence in later generations.
AH: Mendelssohn was one of the first composers that, however many years later, looked back to the music of Bach, and said, "THIS is a master composer." He was an advocate for performing Bach and bringing that music back...so in his own way he was living out that quote. By the time he spent studying and performing Bach, I'm sure that affected how he approached counterpoint and how he sat some of those very things things that influenced further generations.
AR: After some of the darker things on the album, it's a chance to look up and experience the sun coming up and a little bit of lightness comes into the story of the album. I think you hear that in the very very simple triadic movement up....reminiscent of early baroque music, like Bach, where you can hear three parts, travelling together. It's a very uplifting melody, and it's also just a very well-crafted piece for those three voices.
On the power of Jean Sibelius' "Finlandia":
AH: He wrote it in a time when Finland was dealing with some occupation and oppression from the Soviet Union, and it was written as an orchestral piece, it wasn't intended to be sung, but the people in Finland started singing it...and it became sort of an unofficial hymn to the people. Sibelius said something to the effect of, I'm paraphrasing, obviously, "If the people are going to sing it, who am I to stop them."
It's a tune that has been translated into so many different languages and so many different texts have been set to it. You can find it in so many different hymnals...with texts that are crafted for whatever message that that specific church might be trying to get at.
When we first started singing it, we used the "This is my song" the English text, because we put it in a program that was about finding a new land, a new home. And what we liked so much about that English text was that it not only said, "Wow, my country is really great, and it's beautiful...but so are so many other places." It was this idea of national pride without it being singularly focused, and sort of blind to the rest of the world.
Putting it on this album, we decided that doing it in Finnish was the right thing to do, because we were looking back at those sources of innovation and inspiration. Just the sheer melody inspired people to come together and sing and keep alive that national unity that was trying to be stamped out by the occupation. I think just that story in itself says how that piece belongs on this album.
On the decision to perform Franz Schubert's "Night" with just a quartet instead of the ensembles usual nine members:
AH: When we were preparing this piece, we had sung it at nine, and we had tried it at four, and in the end it just seemed like this music was conceived for very small chamber music performances in somebody's salon....and the four voices just brought sort of a clarity and a transparency that seemed really appropriate for the text and for the way that Schubert sets the simple tenor melody with the other three voices sort of answering behind it.
AR: I do love the historical implications of singing one on a part, in a true chamber fashion, and I think it's totally perfect for this album in particular. It's not the Robert Shaw men's chorale with forty voices. You can actually be quite a bit softer when you have that many people...but when you sing one on a part, as I think this song is perfect for, it allows a little bit more emotion, a little bit more color, a little bit more individual take on your line to come into the singing. And that turned, for us, into just slightly a more robust sound.
On how Schumann took an older form and made it his own in the piece "The Rose Stood in the Dew":
AH: Well, the interesting thing is that it's strophic. It's a repeat of the same material three times. Something that was very common in early leider, and even in some Schubert songs, but once we get to Schumann, you just don't see much strophic material anymore. So he's sort of calling back to an old form there.
Dynamically he gives you some cues on how you can continue to paint that text, especially with the idea of a sunrise. That's what we were trying to evoke there, as that sort of haze of morning, and how dewdrops just look transparent until the sun is up high enough, and then suddenly the dewdrops on this rose are shining and sparkling like a ruby. It's beautiful, but there's just the tiniest bit of haunting melancholy that's in there as well.
AR: You can imagine that if you walk out into a field, three mornings in a row, and you see the exact same rose, at the exact same time in the morning, three different times, it might evoke three different emotional responses from you. Maybe the first day it looks fragile...the second day it looks like it beams that sun back, and the third day it might be that it's the true essence of your love-morning.
On prolific composer A.R. Rahman's stunning setting of "Zikr," a prayer repeating the names of God:
AR: It's a religious text. You have a Sufi prayer (Sufi being a sect of Islam)...but the other neat thing to note is that it's from a Bollywood show...and so it's got both of these things going on. It's a very religious, very evocative text and it recalls the whirling dervishes of the Sufi tradition, right, spinning and repeating this text and letting new things come out. But it's also from the most-heard composer in the world — he wrote the music from Slumdog Millionaire — so it's very cinematic at the same time.
AH: it's really interesting...one of the things that is just part & parcel of this music that you can find across many traditions, especially in some African-American gospel music, or in Buddhist meditation, is this idea of repetition. Repeating and repeating and repeating something til you reach a state of ecstasy. And that's what happens with this ceremony with the whirling dervishes, is that they're repeating the name of God over and over and over, until the dance becomes part of their worship. It's incredibly transcendent.
On Hungarian composer Zoltan Kodaly's "Evening Song":
AH: I think the use of a single voice at the beginning is so powerful, because it really gives you that sense of solitude, with those very spread-out and open chords. And then having the other voices joining in later....you could look at it as finding your place, or as a group of people who are longing for rest, and longing for a home.
As Americans, I don't think we can even understand how important Kodaly is to the Hungarian people, and how important this song is. If we sing this song and there is anybody in the audience that is Hungarian, they will talk to us after the concert. And the amount of meaning that this piece holds for them is truly awesome. And I mean that in every sense of the word. I'm really struck by that.
On "Somewhere," a sentimental anthem from American icon Leonard Bernstein:
AR: I think that's the beauty of Bernstein. He took very memorable tunes from West Side Story, and harmonically, theoretically, they had a different language to them. And I think that's why his music had such impact when it came out in the 60s...and today. You hear these very memorable tunes — a lot of us can hum the tunes from WSS — but what's going on underneath the tune is this very rich, new, almost exotic harmonic language that makes the songs so interesting.
AR: It's really is kind of the crux of, "Where am I going? Where is someplace that I can be me, be myself and live as I want to?"
AH: I think the encouraging part of singing this song in 2012 is that we have come a long way. You know, when people saw that show back in the 1960s, they for the most part understood why Tony and Maria had such a hard time falling in love. And now I think a lot of people would look at that story and say, "Well, what's the big deal?" So that's some encouragement.