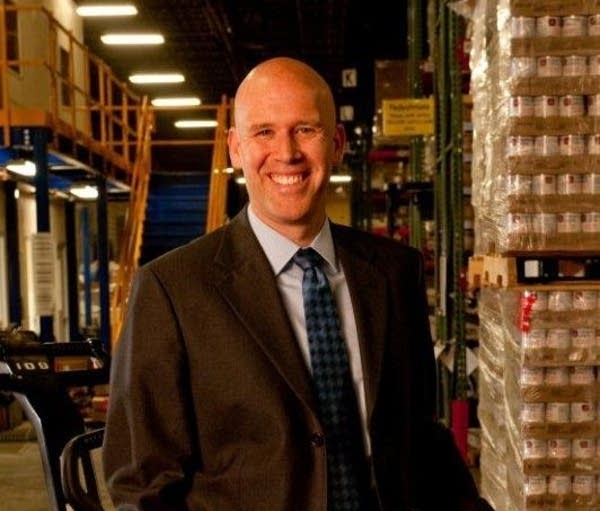 When you meet Rob Zeaske for the first time, you feel like you've known him all your life. He has a big welcoming smile, a friendly nature and habit of looking you in the eye when he talks with you.
And this positive energy is key to the success of the organization that he head up as CEO, Second Harvest Heartland. As a hunger relief organization that represents the Upper Midwest, Second Harvest has reinvented how hunger relief works through streamlining distribution of food, but also in helping people find the means to feed themselves.
But as Zeaske (rhymes with 'pesky') points out, living here in the breadbasket of America, it can sometimes boggle the mind that we still experience need and want. It's his hope that even though the causes of poverty are complex, feeding our neighbors should not be.
Rob's background in music includes singing, so it's no surprise that many of the pieces on his list are favorites he performed. There are also a couple of numbers from the Messiah, with fond memories of the oratorio from start to finish cranked up at home as his father worked his way through the family Christmas cards.
---
Rob Zeaske's playlist:
Aaron Copland, Symphony No. 3: Finale "Fanfare for the Common Man" - Bernstein/New York Philharmonic
Maurice Durufle, Notre Pere - Keene/Voices of Ascension
Wolfgang Amadeus Mozart, Don Giovanni: La ci darem la mano - Domingo/Graham
Giacomo Puccini, Turandot: Nessun dorma - Pavarotti
George Frederic Handel, Messiah: The Trumpet Shall Sound; And the glory - Gardiner/English Braoque Soloists/Monteverdi Choir
Howard Hanson, Song of Democray - Eastman/Mormon Tabernacle
---
Next week, he is "the guy" when it comes to wines and his pairings of music will satisfy the most discerning appetites. Join me when I invite Bill Summerville to share his playlist.