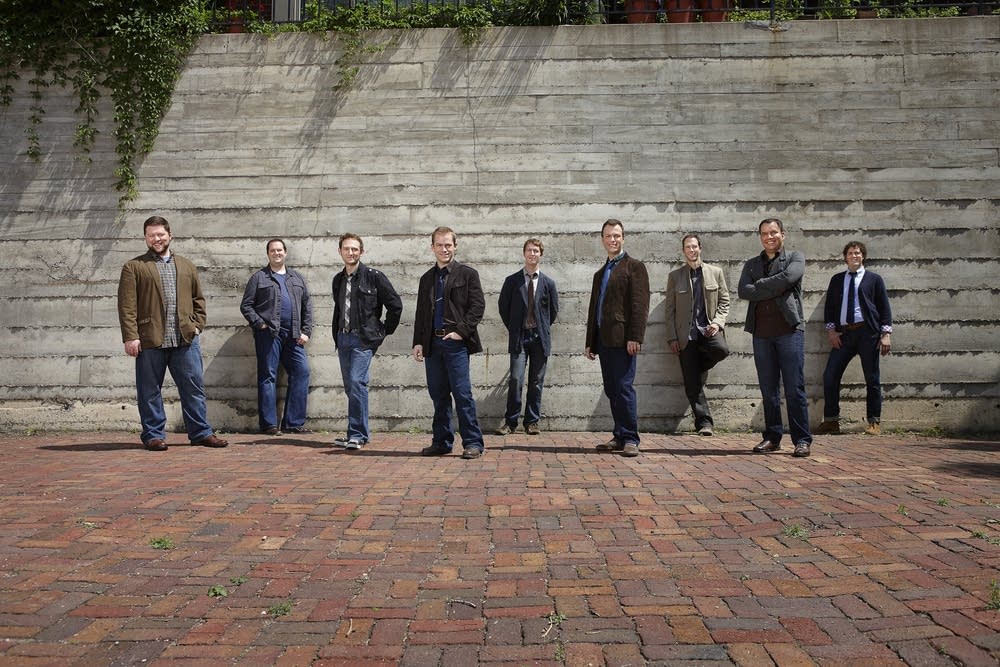 The concert is a sellout every holiday season, and this year's no exception. Surrounded by the warm woodgrain walls of the Great Hall at Westminster decked in pine boughs, several hundred choral fans cozy up to their neighbors to enjoy the music of Cantus. Tune in at 11:00 a.m. Thursday, Dec. 13 to hear this incredible live performance.
The nine-voice male vocal ensemble has put together something slightly different this year: there are carols new and old, as usual, but they're interspersing the music with brief, evocative readings that reflect a wide view of the season.
In collaboration with Minnesota Center for Book Arts and author Patricia Kirkpatrick, Cantus presents a modern take on the century-old British tradition of A Festival of Nine Lessons and Carols.
Program
Carol: Jerry Ulrich, Arr. William Skoog: Heleluyan
Carol: Jean Sibelius: Julvisa
Lesson #1 - The Calling and the Will to Change
Reading - Walt Whitman: This is what you shall
Reading - Robert Frost: The Pasture
Carol: Randall Thompason: The Pasture
Lesson #2 - Sacrifice
Reading - Saymoukda Duangphouxay Vongsay: When Everything was Everything
Carol: Basque Carol, Arr. John Rutter: Gabriel's Message
Lesson #3 - Hope and Gifts
Reading - Tomas Transtromer: Allegro
Carol: Abbie Betinis: Lumen
Reading - Linda Gregg; The Light Continues
Lesson #4 - Seeing the Divine in All Creatures
Carol: Traditional French Carol, Arr. David Walton: The Friendly Beasts
Reading - Thomas Hardy: The Oxen
Reading - Robert Bly: Looking at the Stars
Lesson #5 - From Where We Came: Honoring the Mother
Reading - Connie Wanek: Long Nights
Carol: Welsh Lullaby, Arr. Lawrence Wilford: Suo Gan
Reading - Sarah MacLachlan: from Sarah, Plain and Tall
Carol: Franz Biebl: Ave Maria
Carol: Malcolm Dalglish: Water Under Ice
Lesson #6 - The Return
Reading - Louis Jenkins: Belief
Carol: Kim Gannon/walter Kent/buck Ram: I'll Be Home For Christmas
Lesson #7 - A Message for All to Hear
Reading - Mary Oliver: Wild Geese
Carol: Ysaye M. Barnwell: Would You Harbor Me?
Reading - Louise Erdrich: A Painted Drum
Lesson #8 - The World Beyond
Carol: Nick Drake, Arr. Paul J. Rudoi: Road
Reading - Alberto Rios: Border Lines
Lesson #9 - Bearing Witness and Celebration
Reading: Marina Tsvetaeva: I Bless the Daily Labor
Carol: Alexander Sheremetev: Nïñe Silï Ñeᵬesnïya
Carol: Traditional Georgian : *Alilo (Rachuli Alilo)
Reading - Paul Gruchow: Prairie Year
Carol: Burgundian Air/katherine K. Davis,arr. Chris Foss & Gary Ruschman: Pat-a-Drummer
Reading - Michael Dennis Browne: For Caitlin Lally