If you take a left off Cedar, go past the crossing arm, just past the spot where all those nasty cobwebs gather, then down a flight of poorly lit stairs, there's a metal door with vines covering it. Give it three sharp wraps and then wait a moment for the question —
"Which symphony was Brahms' most overplayed in his life?"
(The answer is the third)
That door will creak open and you can enter into the long, dark, dank hallway that takes you to an elevator in a kind of creaky cage. Press Lower Level Three and you will be taken to the MPR dungeon.
I'm only allowed to share certain information, so please don't ask! But I can tell you this much: our dungeon's keeper Igor has agreed to let one of the residents visit with us on Halloween and share his art.
It's cartoonist and author Sam Hiti. With just a small amount of prodding he'll be drawing while we listen to our spooky Halloween playlist, and happily — well, ok, there was some coercion involved — Sam is allowing us to give away a few of these autographed originals for your art collection.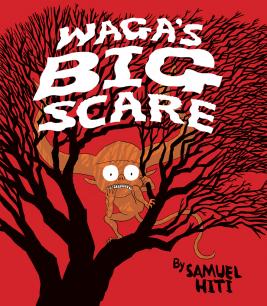 Tune in to win some of the drawings, as well as a copy of Sam's new book, Waga's Big Scare. Also, be sure to note Sam's brilliant renderings of our hosts in costume.
Images and Pieces
Franck: The Accursed Hunter
Weber: Der Freischutz: Wolf's Glen Scene

Bartok: Miraculous Mandarin
Waxman: Bride of Frankenstein

Mozart: Don Giovanni Overture
Ravel: La Valse

Schubert: Erlkonig
Bernstein: Make our Garden Grow from Candide