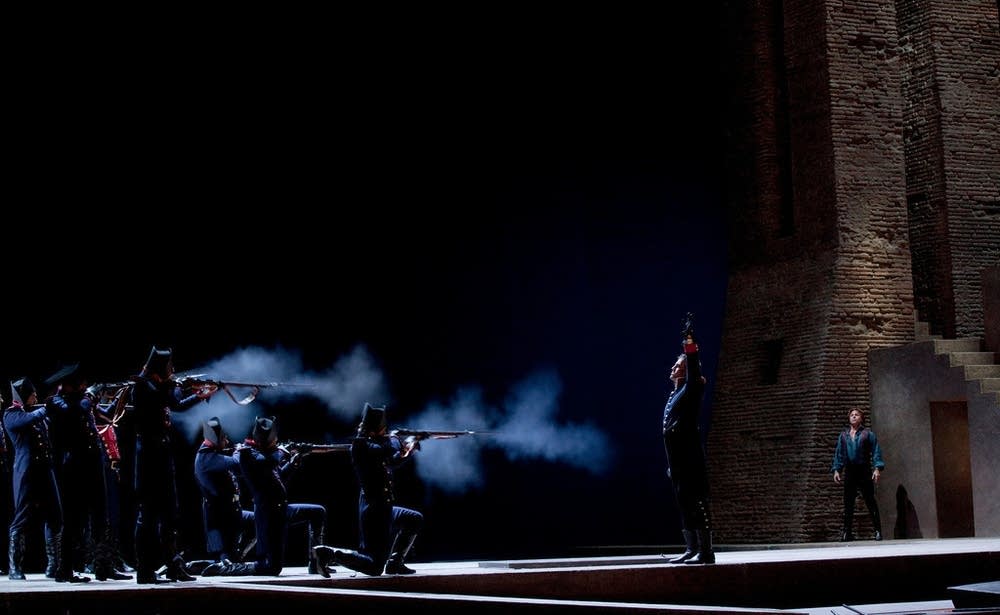 This weekend, the Metropolitan Opera broadcasts Tosca, one of the most popular operas ever written, by one of the most popular of all opera composers, Giacomo Puccini.
Like many books and films, it tells a fictional story, set against a historical background. That background is the Europe of 1800, divided between the old established regimes on one hand, and on the other, the young French republic, with its brilliant young general, Napoleon Bonaparte.
But the real story of Tosca is not about Napoleon or his battles. (The opera takes place in Rome, not in France.) It's about the high-intensity dynamic between the three leading characters: the opera singer Floria Tosca (very passionate), her lover Mario (very idealistic), and Baron Scarpia of the secret police (very brutal, very unscrupulous).
When Tosca and Mario cross paths with an escaped political prisoner, Scarpia sees his opportunity to track the prisoner down — and win Tosca for himself.
Clearly there are plenty of opportunities here for big theatrical moments of emotion and conflict — the very kind we often call "operatic." Puccini responds with a score that includes a few famous arias (such as Tosca's "Vissi d'arte"), but also relies on bold strokes to make an unmistakable impact. One example: the fortissimo chords that open the opera, telling the audience with no further ado just what kind of evening they're in for.
The starting point for Tosca was a French play by the author Sardou, with a large cast of characters and an elaborate plot. Turning the play into the briefer form of an opera libretto meant jettisoning many of those characters and background elements. As a result, the opera sometimes covers important plot details in just a few words.
But audiences have never complained too much. With the loss of secondary detail, there was also a gain in focus. Puccini is able to concentrate almost entirely on his three leads, taking audiences from one scene of suspense to the next. Sardou was even heard to say that the libretto was a better piece of work than his original play.