Composer Andrew Smith was in the right place at the right time.
In 2006, Smith was involved in a music-writing project at Washington National Cathedral. Geoff Williams, an accomplished countertenor from New York City, was hired to sing with the Cathedral's mixed choir. Overseeing this entire special commission was composer and producer extraordinaire, Malcolm Bruno.
At the same time, Bruno was helping Williams launch the four-man vocal ensemble New York Polyphony. Bruno introduced Williams and Smith, and suggested Smith provide Williams a composition. "So I did, and they asked me for more," Smith recalls. "And it worked."
It worked very well, in fact. On New York Polyphony's debut album, I sing the birth, Smith's piece "Veni Redemptor gentium" opens the disc; another track by Smith appears later in the album. NYP's follow-up album, 2010's Tudor City, includes four Smith works. And when New York Polyphony make their Minneapolis debut on Friday, Dec. 9, four pieces by Smith are in the program.
"It's a mutually beneficial relationship," Smith says of his work with NYP. "I get to write the music for a fantastic group, and they perform them and record them and spread them all over."
Although a contemporary composer, Smith's work is influenced by medieval and Renaissance music, and even by Gregorian chant, which came much earlier. "It's the general sound that fascinates me," Smith says, "and there's a freedom I experience writing this music, unbound by the more modern harmonic traditions such as in romantic and classical music."
In "Veni Redemptor gentium," for instance, the layered vocals provide beautiful depth to the ancient Latin words; where English is sung, the trilled Rs in words like "from" and "triumph" evince the provenance of Smith's music. "Andrew is a really wonderful composer," says NYP's Williams. "He really knows how to write well for us. It's very lush, but he is able to capture what is really beautiful about the starkness of some of the early medieval music that we sing."
Smith was born in Liverpool to musical parents (an organist father and cellist mother), and at age 14, moved with his family to Norway when his father got a job as an organist there.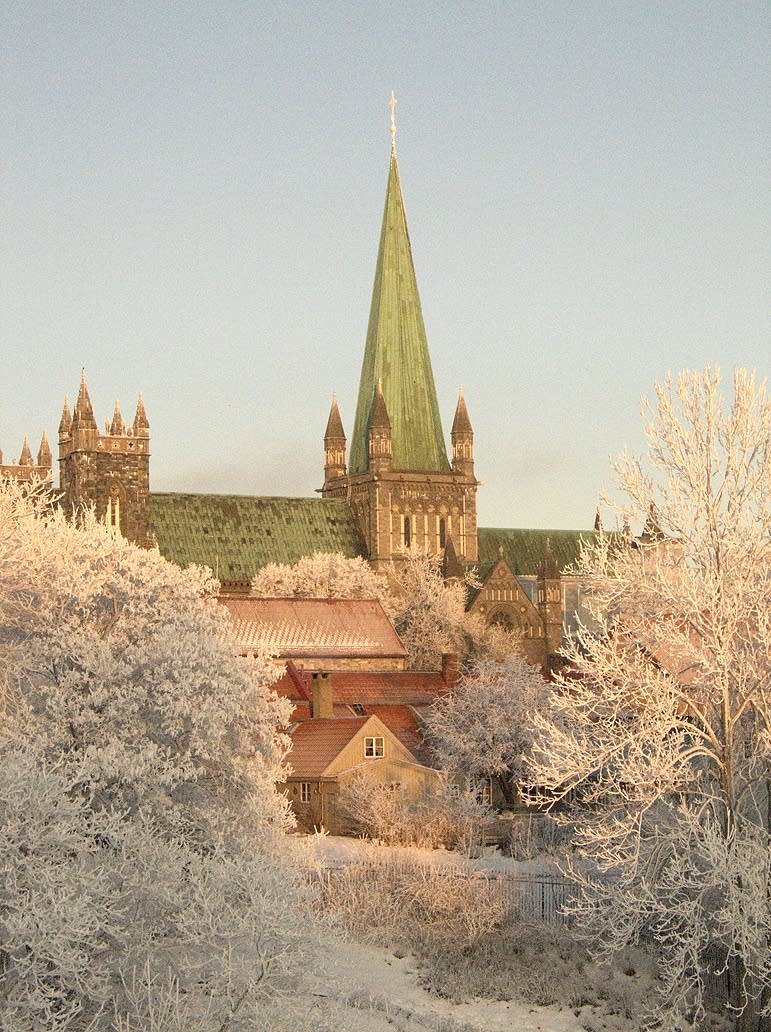 Today, Smith lives in Oslo where he composes part time ("The income is too uneven to be able to rely on it," he says) and also works at music publishers Norsk Musikforlag A/S. His upcoming music projects include a commission for the Vocális Chamber Choir of Buffalo, N.Y., a connection gained through his work with New York Polyphony. Closer to home, Smith is working on a commission for the girls' choir of Nidaros Cathedral in Trondheim, Norway, to be performed on All Saints Day (Nov. 1) 2012.
And of course, he'll continue to write for New York Polyphony. "They're such a good group," Smith says. "They're getting quite a lot of requests from other composers to commission works for them, so I have to make sure that what I produce is of a high enough quality for them to want to keep on singing it."