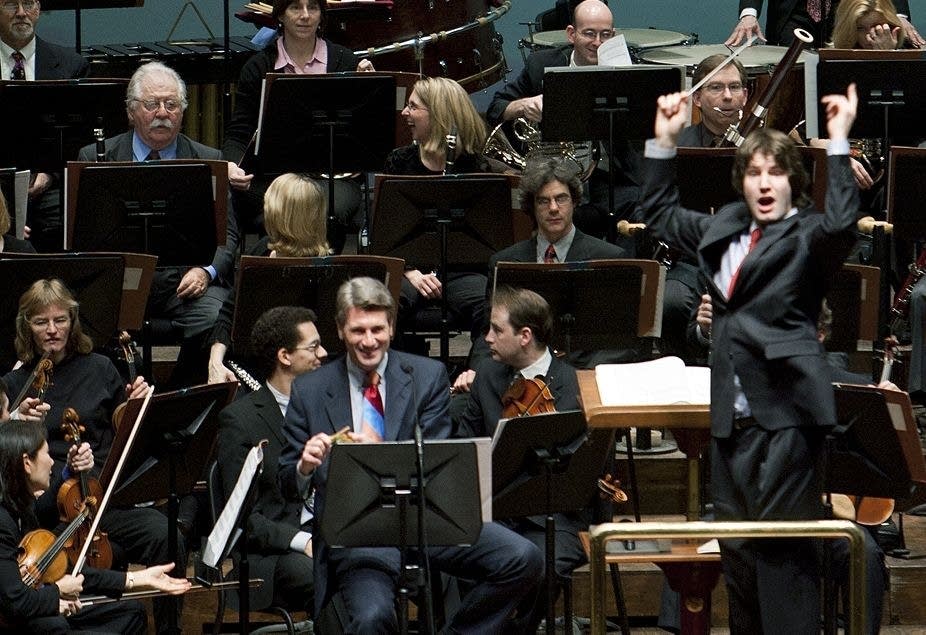 On the drive across the river from MPR over to Mayor Rybak's office in Minneapolis, audio engineer Michael "Ozzie" Osborne and I got to talking about politics and all the things we'd do to fix the big problems our cities and state are facing.
It kind of made me chuckle as a classical music host flexes my muscles as an "armchair" mayor on my way to meet the actual Mayor to talk about the classical music he listens to.
I come from a very literal, clear-cut world of numbers and decisions and music helps me to just stand back and look at what really matters.

Mayor R.T. Rybak
Although it might be somewhat cliche, leaders - who have to pull all kind of data together, find a compromise of often oppositional attitudes, beliefs, ideas and cultures, and then create a game plan that will keep a city afloat and thriving - use personal tools to keep their heads clear. And in the case of R.T., classical music is way up there in his tool box.
Soothing music - like the old stand-by Johann Pachelbel's Canon - or the bring-you-to-your-knees romantic and bombastic "Organ" Symphony No. 3 by Camille Saint-Saens - are two pieces on R.T's list that provide a kind of other-worldly escape to keep his mind clear, on-task and with good perspective.
A surprise for me was that Mayor Rybeck has such an interest in the minimalist style of Philip Glass. He tells me that its orderliness and repetitiveness can often aid him in getting a handle on the massive flow of information he needs to juggle in his own job.
Five years ago, the Mayor was asked to narrate a piece by Minnesota composer Steve Heitzeg for a series of concerts presented to every third grader in Minneapolis. The text is from the book "The Tin Forest" where an old man who lives in a junkyard dreams of a more beautiful - and eco-friendly - environment of a rain forest.
R.T. told me that it took him a few times to get the hang of coming in at the right time with the orchestra and feeling a bit more like an instrument himself. When the third graders are given a chance to make wild jungle sounds along with the music, the Mayor says - with a twinkle in his eye - that moment might be just a bit like giving a speech to city council!
---
Mayor R.T. Rybak's playlist:
Johann Pachelbel, Canon in G - Tafelmusik/Jeanne Lamon
Philip Glass, Songs from Liquid Days - Linda Ronstadt/Kronos Quartet
Camille Saint-Saens, Symphony No. 3 "Organ" - Boston Symphony Orchestra/Charles Munch/Berj Zamkochian
---
Check out more on the "Music with Minnesotans" series:
Mayor Chris Coleman, Lois Quam, Classical Music in the OR, General Larry Shellito, Joe Dowling, William Gurstelle, The Reverend Spenser Simrell, Karen Hansen, Linda Z. Andrews and Stuart Loughridge.
---
Join me next Wednesday at noon when composer Stephen Paulus shares some of his favorite classical music for the season, including one of his own - "Gabriel's Message" - recorded by the Dale Warland Singers. We just might also hear that piece recorded by Sting.