This Saturday, an up-and-coming young string quartet makes their Minnesota debut -- the Escher Quartet. They've performed in some of the nation's top venues including Lincoln Center, the Ravinia Festival, and Music@Menlo.
The name is taken from the Dutch graphic artist M.C. Escher when the ensemble felt inspired by Escher's method of interplay between individual components working together to form a whole.
"Their sound is golden-ripe, cool-edged, yet pulsing like the engine of a luxury car."

San Jose Mercury News
One of the most unusual practices of this ensemble is that they stand when they perform --- all of them except the cellist. Young string players are trained to stand when they perform, so it feels natural.
But standing also adds a level of soloistic bravura to their playing as well as a tightening of the ensemble. Further, the ensemble's sound has a greater depth and projection when less grounded.
For an audience, it's just a wonder to behold Beethoven and Brahms played more directed outward and with a greater sense of communication.
Three of the musicians -- violinists, Adam Barnett-Hart and Wu Jie with cellist Andrew Janss --- met at an elite chamber music camp, the Itzhak Perlman Music Program. Chemistry was instant, but they were without a violist.
Once the three returned to the Manhattan School in the fall, they requested the best violist on campus to join them, and voila -- there was Pierre Lapointe to make the quartet.
Though they clicked right from the outset, growing into an organic whole was not easy at first and took much rehearsing, discussion and patience.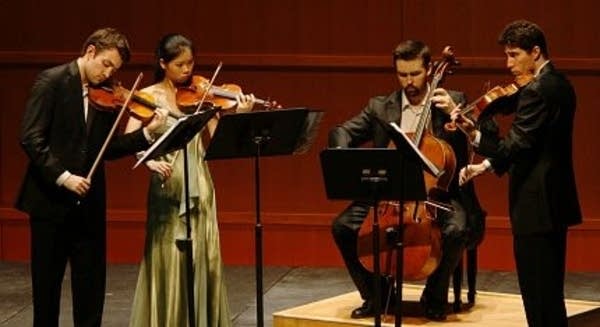 But now, they can't imagine any other career in music.
The world of the string quartet is filled with so many surprises -- new commissions, and new discoveries of old music. This fall, the quartet will record all four Alexander von Zemlinsky quartets that have only recently seen a resurgence in interest.
This Saturday's concert in Saint Cloud will include some biggies in the world of string quartet -- both Brahms' and Prokofiev's first quartets as well as one of the Razumovsky Quartets by Beethoven -- a piece that stood as a challenge as well as instruction to the other composers on the program.