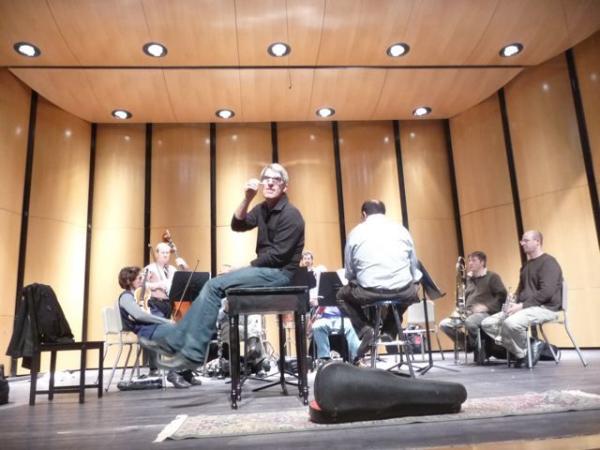 Igor Stravinsky wrote "L'Histoire du Soldat" -- The Soldier's Tale -- in 1918, right in the middle of World War I.
He said the work was meant "to be read, played, and danced." The words are modern, and based on Russian folklore, but the story appears in other cultures, including in Germany with Goethe's Faust.
It's pretty simple - a man sells his soul for the world's riches. In this case, the young soldier trades his violin for a book that tells of the future, but he soon regrets his decision.
Steven Epp, formerly of Theatre de la Jeune Lune, has rewritten the libretto to allow for one actor to tell the tale. He plays the soldier, the devil, the narrator and a mute princess.
The musical ensemble is small - just seven instruments - due to the hardships of the day in securing the finances for large orchestral works. But the intimacy of a small troupe also reflects the tastes of the time. They sound more like a pick-up jazz group in a Cabaret than a classical ensemble in white-tie-and-tails.
Stephanie Arado is Assistant Concertmaster of the Minnesota Orchestra and a member of the Bakken Trio. She plays the role of the "soldier's soul" -- a very virtuosic and expressive lead part in the ensemble.
Both artists agree that the story is surprisingly universal with a moral that everyone can understand. This is why they have given performances of "L'Histoire" for school children including kindergartners who seem to understand the story too.
The music itself is also remarkably gripping. Off-beat and disruptive, Stravinsky writes in his neo-classic style with clean and straight-forward lines, but shifts the bar-line leaving the listener off-center and adding drama to the story-line.
The ensemble gives their public performances this Sunday to open the Bakken Trio's season. It's at the trio's new home-base, the MacPhail Center for Music. Stephanie and Steve stopped by to talk about the piece and their particular roles with me.