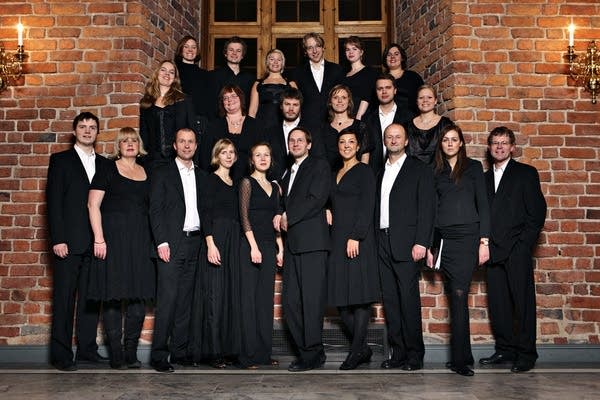 The Oslo Chamber Choir is an act unto itself. Most of the singers are classically-trained, but they specialize in traditional Norwegian folk-singing.
This includes that distinctive Norwegian style of stringing together nonsense-syllables in an almost stream-of-consciousness fashion worthy of James Joyce. Those "diddly-doo's" were a way for a singer to make up for an absent violinist when a group wanted some dance accompaniment.
Another style - called "Lokk" - grew out of the loud singing/calling shepherds used to throw their voices over the vast mountains and valleys of Norway to call their animals home.
Folk singing in Norwegian is calling "kveding." A 'kvedar' normally sings alone and in a modal harmony, even bending notes a quarter-step.
Classical musicians usually avoid the style since the tone is flatter, more nasal and lacks vibrato. Ornaments occur on consonants and give a kind of percussive emphasis to the music.
To be a good kveder requires one to improvise on the spot, which is also something outside the comfort zone of most classical-trained musicians.
This marvelous ensemble jumps from song to song seamlessly and this is why they are considered one of the finest in Norway - indeed throughout the world.
Much of the choral's recent rise to international acclaim is due to the amazing energy and vision of its 25-year-old Conductor and Artistic Director, Hakon Daniel Nystedt. He's the grandson of renowned Norwegian choral composer Knut Nystedt and a former protege of Oslo Chamber Choir founder Grete Pedersen.
One of his first acts as Director was to present the choir in Kyoto at the World Symposium on Choral Music.
Since then, the choir has built on its successes taking their signature heartfelt crossover-style around the world on tour.
This is the choir's 25th anniversary and they have jammed in four concerts in four days throughout Minnesota.
Hakon Nystedt had only just stepped off his trans-Atlantic flight and graciously offered me a few minutes of his time at his hotel near the airport. Listen to our conversation and some of this amazing choirs' singing.