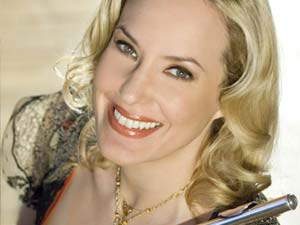 Minnesota flutist Linda Chatterton has had one fantastic year. She performed on two recitals at the National Flute Association convention, competed with 120 different musicians to win her second McKnight Fellowship -- which is a $25,000 cash infusion into her career, and has just released her fifth solo disc, a CD of American music called "Diverse Voices."
Part of what keeps her centered, both on and off stage, is the subject of a course she's developed on combating stage fright and performance anxiety: "It Sounded Better at Home!"
Chatterton tells classical music host Alison Young how she practices what she preaches.
She also plays two selections, Paul Schoenfield's "Achat Sh' alti" and "Ufaratsta."
Chatterton will present a CD release party and performance at the Lutheran Church of the Good Shepherd in Minneapolis, Friday at 7:30 p.m.
John Jensen accompanies her in music by Aaron Copland, Lowell Liebermann, Roberto Sierra, Paul Schoenfield and a work composed for Linda by Minneapolis-based composer Edie Hill.